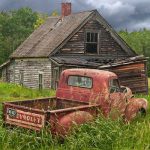 Masterful setting description teaches us an important lesson: writers need to take the time to paint enough of a sensory-rich picture in order for readers to feel they are there—or at very least, get a glimpse of how the setting feels and looks to the POV character.
As we've discussed in many of these posts on masterful description, all details presented in description is the POV character's observation. When you are in POV and you describe a tree, you are not giving dry statistics about that tree; you are sharing what that character notices when looking at that tree. And the way that tree is described has to
fit the character's personality, vocabulary, background, and education (you can't have an uneducated character describe the tree the way a botanist would);
fit the character's mood at that moment (the choice of phrasing and adjectives, as well as the aspects of the tree noticed, has to reveal, mirror, or imply the mind-set);
and help set the tone of the scene.
That description could do much more than what I stated above. It could act as a metaphor in some way, or a motif. Spindly bare arms could signify bareness, for example, and while the character may not be standing in front of the tree thinking, "Gee, this tree is like me: barren," you could masterfully describe the tree in a way that the reader gets the subtext, the unspoken thoughts, that are often more powerful than the outward descriptions. Continue Reading…