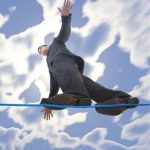 Note: This post was originally posted in August on Writer's Fun Zone here.
Tension is created by lack. Lack of understanding, lack of closure, lack of equilibrium or peace. When your readers have questions, that creates tension. When they need to know what happens next, that is tension.
Masterful writers keep their readers in a constant state of tension. And that's a good thing.
But here's something to keep in mind: our characters may be tense, but that doesn't mean readers are tense in response. A character with a tightened fist or clenched jaw does not ensure readers will respond in the same way. And that might not even be the desired response a writer is hoping for.
What the characters think, feel, and show must be carefully executed to evoke the desired emotional response in readers. Continue Reading…