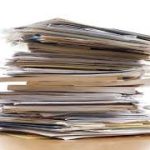 Today's guest post is by Natasha D. Lane.
Writing is often seen as a sudden burst of creativity. The muses appear on our shoulders, whispering inspiration in our ears. Our artistic souls are charged and our fingers move across the keyboard with an urgent ease.
Though the poetic image of a carefree writer typing out masterpieces may be appealing, it's not realistic. If you've been writing for a while, you'll know the scene I described above is not how writing works. Writing, like many arts, is a process that requires patience, discipline, and organization which is where a book bible comes in handy.
What Is A Book Bible?
A book bible is a document that contains all significant information related to a book or a book series. There aren't any hard and fast rules to building your bible. However, it should be written in a way that finding specific information is easy. If a reader were to get their hands on your bible and read through it, they should understand how your entire book/series plays out. Continue Reading…