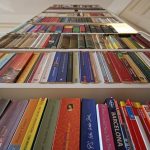 Today's guest post is by Nicole Boyer.
As a writer, I have always been fascinated by the topic of self-publishing. The idea that anybody with something to say can reach hundreds, even thousands, of readers through e-publishing—and thanks to the existence of book-selling websites such as Amazon—is absolutely fascinating to me.
Of course, self-publishing a book is only the first step. As with any other product, books must be marketed and promoted. I spoke with a few friends of mine who have managed to generate a thousand dollars or more in monthly sales for their books to get their take on marketing strategies.
1.Create a Specific Target Readership and Gear All Marketing Efforts Toward It
Books are, by design, a niche market. There are very few books in general that appeal to a wide audience. There are even fewer in the world of self-publishing. If you gear your marketing efforts toward a general audience, you might be wasting time and money. You're also missing potential readers. Continue Reading…