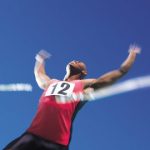 In consideration of National Novel-Writing Month (NaNoWriMo), I'm reprinting a post I ran a couple of years back, which should be helpful to anyone writing a novel!
Anyone who's written a novel—or attempted one—can attest to the level of difficulty involved.
Some of you are presently in the throes of NaNoWriMo (National Novel Writing Month). You're racing the clock trying to complete a novel in one month. And that's a fun and challenging thing to do.
But here's my question for you: Why are you doing this? Is it just to see if you can throw together something that looks like a novel so you can feel a sense of accomplishment? And don't get me wrong—I don't belittle this at all. It takes real strong stick-to-itiveness (yes, that's a word!) and a big jar of butt glue to stick you in that chair and write a whole lot of words.
If you get to the finish line, you should be proud! Continue Reading…