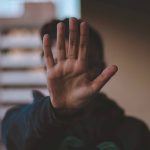 Fiction writers know all about POV, and in current novels, going deep is the ticket. But there are times when it's strategic and powerful to keep distance in POV.
While it is sometimes used as an effective writing style to present an objective panorama of plot and characters  (as you'll see further down), it has the benefit of leaving readers wondering and filling in blanks.
If a reader isn't welcomed into the landscape of a character's mind and can only make assumptions about motivation by watching the action, gestures, and expressions of the characters, then he is left with impressions and many questions. Which is all great for creating microtension, if done well.
Using the camera shot POV is a great technique novelists can borrow from filmmakers. For some writers, the idea of showing a scene completely devoid of emotion, reaction, internalizing, and opining may seem counterintuitive—or downright counterproductive. Isn't the whole point to tell a story up close and personal?
Sure. But there may be times when you want to see action happening without coloring it with any subjective tint. When you want a feeling of emotional distance.
Some writers excel in this technique, and their novels become a visual palette of story shown as if through an impersonal camera. The effect is often profound and evocative. Why? Because it is left to the reader entirely to come up with what isn't shown or told, to assess the emotional content and intention of the characters and the story unfolding. Continue Reading…