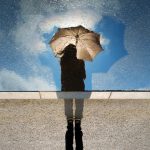 Writers hear a lot about point of view and, in particularly, deep POV.
What is deep POV? It's being inside one character's head, and, in fiction, there are some current "rules" that fiction writers are urged to follow.
Rules aside, there is a lot of failure to stick with deep POV, and that's because many writers don't understand what it truly means.
Think about it this way. You have a body in space, with numerous sensory receptors. Most people can see, hear, touch, taste, and feel things around them. People think in their heads about things—perhaps processing what is happening to them and around them, possibly thinking about the past or future while being somewhat aware of their body in space, or are impaired in some way as they attempt to think or process.
You, in your body, can take note of what is around you and inside you. And you are limited by your ability to observe and process those things. You are limited by, for example, your age. If you're three years old, you don't have either the vocabulary or the ability to understand abstract thought. If you're older and demented, you will have particular limitations to what you can understand and process. Continue Reading…