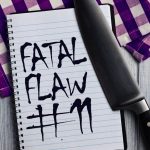 This week editor Linda Clare continues our look at Fatal Flaw #11 – Pesky Adverbs and Weasel Words. 
This month, our posts are all about the words writers commonly overuse or use improperly.
Let's look at how prepositions are abused in fiction and how to fix them.
A prepositional phrase is often a directional or time place-keeper. Common prepositions include in, to, of, from, on, over, under, through, above, and below. Writers use them to help readers imagine scenes more completely. Instead of floating in space, a character stands in the room. She lays her keys on the table and opens a letter from a long-lost lover. When she slumps to the floor, readers are grounded.
It's difficult to write much of anything without using prepositions. Yet writers often overuse them—just in case readers didn't get the gist of a sentence the first time. In this case, prepositions become weasel words: they're unnecessary, distracting, and wordy. A case in point might be a paragraph with a POV character moving through it: