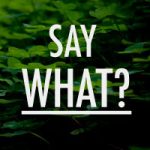 Last week I began what looked like the beginning of a long list of collocations. but I promise you, I won't drag this on forever. For those of you who missed that edifying lesson, a collocation is not a vegetable you steam and eat with butter. A collocation is a word pairing, and there are certain verbs that should be paired with specific prepositions. So here are some more collocations—which might be fun to eat while munching on a green leafy vegetable:
Center upon: Center your attention upon his theme.
Cause for: This is no cause for alarm.
Compatible with: She is not very compatible with her boyfriend, in my opinion.
Consideration for: You should have consideration for others.
Consideration of: In consideration of the circumstances, maybe you should leave.
Depends on: That depends on whether or not he is telling the truth.
Depends upon: His life depends upon his telling the truth.
Differ from: You differ from me in looks.
Differ with: I beg to differ with you.
Enamored of: He is enamored of his fiancee (bet you didn't know this one).
Incorrect in: She was incorrect in her answer.
Oblivious to: You are oblivious to my needs.
You can preside at or over a meeting.
You can now jump at the chance to stop reading this, but don't jump to conclusions thinking this is the last you'll hear about collocations. However, rest easy—I am done for now.