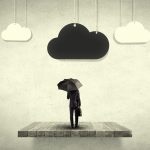 Today's guest post is by author and writing instructor Rayne Hall.
Do you feel like you're trapped in a dark hole of morass, sinking deeper and deeper, the mud rising to your hips, your chest, your throat? Is despair smothering you like a heavy blanket? Is your own life moving past you like a train, and you are forced to watch and cannot board? Has crippling lethargy wrapped its tentacles around you so tightly that you cannot move, sucking from you all energy and the will to live?
If you want to get better, to feel alive again, if you want to step out of this darkness and take control of your recovery, you can use your skill with words to help yourself.
I've been there. I understand. Together with Alexander Draghici, a psychologist specialising in emotional disorders, I've written a book to guide writers like you out of the dark hole.
You can be your own therapist and at the same time improve your fiction-writing skills. Continue Reading…