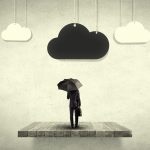 Today's guest post is by author and writing instructor Rayne Hall.
Do you feel like you're trapped in a dark hole of morass, sinking deeper and deeper, the mud rising to your hips, your chest, your throat? Is despair smothering you like a heavy blanket? Is your own life moving past you like a train, and you are forced to watch and cannot board? Has crippling lethargy wrapped its tentacles around you so tightly that you cannot move, sucking from you all energy and the will to live?
If you want to get better, to feel alive again, if you want to step out of this darkness and take control of your recovery, you can use your skill with words to help yourself.
I've been there. I understand. Together with Alexander Draghici, a psychologist specialising in emotional disorders, I've written a book to guide writers like you out of the dark hole.
You can be your own therapist and at the same time improve your fiction-writing skills.
How to Describe Your Emotions
When you suffer depression, your brain produces intense negative emotions: grief, anger, resentment, fear, inner pain, regret, shame, guilt, worry, envy, self-loathing, and more.
As a writer, you have a powerful tool to reduce these emotions: simply use your descriptive skills. The effect is astonishing and fast.
Here's how you do it:
Whenever you feel bad, identify the emotion. Observe where in the body you feel it and how it feels.
Describe it. Use a simile (a comparison with something else).
"I experience . . . It feels like . . ."
"I experience. . . It feels as if . . ."
Here are some examples from my own notes:
"I experience fear. It feels like a giant iron fist clutched around my chest, squeezing the air from my lungs."
"I experience anger. It feels like hot acid rising from my stomach into my throat."
"I experience worry. It feels as if I had an ugly toad squatting between my shoulder blades."
"I experience inner pain. It feels like a knife ripping inside my gut."
By labelling and observing your emotions, you're objectifying them. They lose their power over you.
At the same time, you're becoming a better writer. You're creating vivid emotional descriptions that you can use in your fiction. In years to come, whenever a point-of-view character experiences one of these emotions, you can look up your notes on how it felt to you. You'll have a fresh, original description that will dazzle your readers with its raw, vibrant authenticity.
Don't worry if you can't come up with brilliant prose. Just describe what you feel.
From My Personal Experience
I discovered this technique after a session with a cognitive-behavioral therapist who advised me to label and observe emotions so I would recognize them.
This was tremendously helpful—and I immediately saw that this therapy could double up as practical writing research.
It got to the point where I actually welcomed the negative emotions. ("Ah, jealousy! Great, that's a new one for my collection.") I felt pleased about the bad feeling . . . and that immediately gave me a boost.
Those phrases have been so useful in my fiction writing. If you read my short stories and novels, you'll come across sentences like these:
"The iron fear of fist clutched around his chest and squeezed the air from his lungs."
"Anger rose like hot acid from her stomach."
"Worry squatted like an ugly toad between her shoulder blades."
"Pain ripped like a knife in his gut."
Sound familiar?
Book reviewers often praise my skill at conveying emotions in a fresh, vivid way. One reviewer even quoted the sentence about the ugly toad as an example of my original writing.
Expert Advice from Psychologist Alexander Draghici
For a person who struggles with depression, getting a handle on those negative emotions can sometimes feel like a herculean task. Depression is often perceived as a deep and heavy fog that clouds your judgment and prevents you from finding your way out. You feel "bad," but you don't know how to describe your emotion, and this will most likely cancel your ability to exercise control over your feelings.
By using writing as a therapeutic tool, you'll be amazed to see how your once hazy emotions will slowly begin to take shape right in front of your eyes. In other words, you're no longer fighting in the shadows but on an open field.
Think of it this way. People who struggle with depression tend to ruminate a lot. They spend hours thinking about various causes, factors, and consequences of their negative mood.
The main problem with rumination is that it leads nowhere. You're like a lost explorer, going in circles, thinking that this path or the next one might get him out of trouble.
Writing down your thoughts and emotions is the equivalent of climbing atop a tree in order to get a better sense of direction. More specifically, it gives you the opportunity to temporarily separate yourself from that confusing mix of negative thoughts and emotions and become an outside observer who can clearly see the big picture.
Metaphorically speaking, the act of putting your emotions on paper symbolises your attempt to externalise them. Even more, by describing each and every one of your troubling feelings, you make an effort to understand the very core of depression, thus taking the first steps toward healing.
Just like the profiler who manages to sketch accurate portraits based on vague descriptions, you too can create a detailed image of your negative emotions just by putting a few words on a piece of paper. In fact, you can even improve this exercise by painting/drawing a picture for every emotion that you've described.
Do you struggle with feelings of depression? Have you tried writing down descriptions of how you feel? Has this helped you?
Rayne Hall is the author of more than sixty books, mostly dark fantasy and creepy horror, as well as the editor of the Ten Tales fantasy and horror anthologies.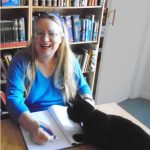 Visit her website or follow her on Twitter for writing and publishing tips.
Subscribers to her newsletter for writers get a free pdf workbook Grow Your Unique Author Voice.
Write Your Way Out of Depression: Practical Self-Therapy for Creative Writers is available for Kindle and in paperback.