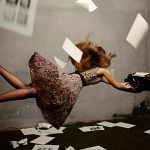 Today's guest post is by Sara Crawford.
Writing has always been my life.
I have been writing ever since I was very young. When I was in the first grade, I used to write little plays and have the neighborhood kids perform them on the driveway. ("But, Sara, I want to play baseball." "You have to rehearse.")
I have written poetry, novels, nonfiction, songs, plays, and screenplays. I got an undergraduate degree in English and a master's degree in creative writing. There's a Morrissey song in which he says, "She lives for the written word, and people come second or possibly third." That's always been me.
So when I graduated from grad school, I naturally expected that I would immediately make a living as a writer. I had to start freelancing to make ends meet. I discovered that everyone needed web content, and a lot of people were willing to pay for it. Continue Reading…