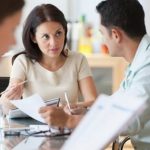 Today's guest post is by Sarah Juckes.
More and more literary agents are stepping out from behind their piles of submissions to attend writing conferences and events now. And why not? Getting out there and meeting writers is a great way to ensure that the next big thing lands on their desk.
But what of the writer? There's something comforting about sending a perfectly polished cover letter to an agent over email and having plenty of time to craft the perfect reply. Meeting an agent face-to-face, however, is a whole different matter.
If you're anything like me, you'll like to arm yourself with facts before your first agent meeting and come prepared for every eventuality. So, in the interest of being prepared, here's an overview of what to expect from your agent 1-2-1. Continue Reading…