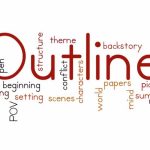 I wrote this post a year ago, and since I did this series on scene outlines, I've had dozens of writers over 2017 hire me to critique their outlines.
What have I seen? That writers who take the time to do a thorough scene outline, and who study books like Layer Your Novel, to ensure they what scenes are needed in a novel and where they go, end up with extremely well-structured novels. That is, after they have me critique them.
A lot of the outlines I work on are a mess. Writers need a lot of help, a lot of direction. Even if you know basically what scenes will make up a strong story, it's still not easy to tell if you have all you need and in the right places. And it helps to have someone else take a look and throw suggestions at you, ways to make your story better.
That's what the scene outline critique is all about. So I'd like to encourage you to get a scene outline critique. Read on and learn what this is all about. Also do a search on my blog for "scene outline" and you'll see a lot of other posts that will help you.
Hire me. I charge by the hour, and I feel this is the best use of your money. You'll get a lot of help for a small cost. Why spend thousands of dollars on a full critique that may tell you, in essence, that your structure is a mess and you need to round file the whole project?
I'm all about saving time! Continue Reading…