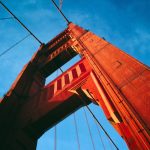 Last week I introduced you to my scene template. I can't emphasize enough how helpful it is to lay out all (or most) of your scenes before you start writing. Or if you've already written a rough draft, how useful it is to summarize each of your scenes in the scene template and look carefully at what you have.
Outlining your novel, scene by scene, is like crossing a bridge. On one side you have all your scene ideas in a jumble. On the other side is your complete novel that tells a beautiful, tight story. To get across that daunting chasm to the other side, you need to take one step after another, steady, strong, and purposeful. Each scene is a step to the finish line, and none should veer you in the wrong direction (over the railing into the brink!).
In addition to editing and critiquing manuscripts, I review scene outlines. Many of my clients have gone on to write terrific novels using this scene template. Some have me critique their outline crafted within the template. Others use the template to work out their scene details, then write a briefer scene outline with just one paragraph per scene (including the key points in their paragraphs).
I encourage you to have me go over your material and give you honest, constructive feedback so you can see how on track you are with your scene structure. Contact me so we can discuss!
A Wise First (or Next) Step
Whether you've already written a rough draft, reworked many drafts, or are just plotting out your novel, you can benefit from this process. Instead of paying upward of $1,000 or more to have your manuscript critiqued, first consider putting together the scene outline and having me critique that. It usually takes me from three to five hours for me to review an outline. That's going to cost a whole lot less than a full critique. And honestly, you are going to benefit from this much more.
Why is that? Because having help to hammer out the problems with your story structure is the best first step. Especially if you haven't even written any scenes yet. The scene outline will reveal nearly all the main problems with plot and character development. And if you fix your story before you write (or rewrite) it, you will save yourself weeks or months of heartache and frustration.
Like being given a road map, a scene outline will chart your course clearly. There will still be plenty of room to take side trips and encounter new places and people, but you will stay on course with purpose and vision.
Don't think outlining will curtail your creativity. It won't. If anything, it allows the framework and room to be as creative as possible without worrying if what you are writing is going to work in your story. With an outline, you already know the scene idea works. You just need to write it effectively.   
Here's a Great Example of My Scene Template in Use
One of my clients is currently writing her novel after working hard on her scene outline. She went through numerous iterations of her outline until she had it just right. Working with her at the outline stage, I was able to point out what needed work, what was missing in plot or character development, what scenes should be reordered.
At the scene stage it's much easier to move scenes around. From the template, you can transfer each scene's summary onto an index card, then lay out all the cards on a table. If you are using the three-act structure, you can lay the cards out in three long rows. Getting a "big-picture" view of your scenes can really help you see what's missing or in the wrong place.
Here is one page of my client Christine's complete outline (you can download her entire first act here, with her permission):
Act 1 Scene 3
Locale: Eleanor's laboratory, Institute of Medical Genetics, London
Time of day: 17:00
Time of year: November
Weather: cold, grey, spots of rain starting to splash on the windows
How much time passed since previous scene with this character: 7 hours
POV character for the scene: Eleanor
Scene Summary:
Eleanor is helping one of her PhD students with a problem.
Franciscka comes in and gloats about her chances of tenure.
What main way is the story advanced? What new plot points are revealed?
The 25 year old Franciscka introduced as the spiteful, bitchy protégée of McMahon (tall, very athletic figure but distinctly on the skinny side; rather inconsequential, drawn facial features and small pale eyes; but very beautiful long blonde hair, of which she is clearly extremely proud: always flicking it about. However, Franciscka also has badly bitten nails and a nervous habit of twisting her hair while she speaks to hint to the reader that she isn't quite as self-assured as she likes to make out: in fact she is psychologically very brittle, as is shown later. )
Rivalry between the two women for tenure is made explicit.
Eleanor's patience and mentoring skills are revealed.
Eleanor dry comment to Franciscka that "polishing" data may be a widespread practice in research but it will never lead to anything constructive or worthwhile, and will always be found out in the end anyway (this is important, as it shows that Franciscka has been explicitly warned by someone about the risks of engaging in academic fraud.)
What conflicts/obstacles are presented in the scene?
Eleanor dislikes Franciscka on all levels (she is shown as a bitchy unpleasant person, who is not at all averse to bending the rules to get what she wants. Also, much to Eleanor's disgust, she has no scruples whatsoever about experiments on animals, a practice which Eleanor firmly believes is wicked and totally unnecessary in modern science. Here, Eleanor quotes a saying she read in one of her mountaineering history books, which very much appealed to her: "The journey is the aim.")
Franciscka is shown to be extremely frustrated by Eleanor, as she cannot surpass her scientifically and Eleanor is not vulnerable to Franciscka's attempts to make her feel physically inferior (Eleanor was resigned long ago to the fact that she is not beautiful and does not resent beauty in others).
How does the POV character change or grow by the end of the scene?
Eleanor is more determined than ever to get tenure as she is disgusted by everything Franciscka represents.
THE high moment or key info revealed in scene:
When Franciscka makes her determination to get tenure explicit, and the obstinate Eleanor thinks to herself that no: she is damn well going to get it.
Important backstory bits revealed in scene:
Eleanor and Professor Pearson considered "overscrupulous" by McMahon's cronies in terms of their ethics.
Lots of medical researchers "polish" their research data to get them published.
Eleanor has a reputation for helping struggling young researchers (or "losers" in Franciscka's opinion) achieve their potential (foreshadows efforts with the floundering PhD student, Rhys Evans, at St Gilbert's Psychiatric Hospital in Act 2).
Eleanor takes a personal interest in her research patients and their progress (revealed in a comment to her PhD student about a seriously ill 4 year old girl who is being followed up as part of her research. Eleanor always imagines that the sample she is handling at any one time is from that little girl, as this motivates her tremendously.  NB She has never actually seen the child, as for data protection reasons, clinical data and laboratory data must be kept strictly seperate. Blood samples are always anonymized, so that the scientists conducting the laboratory analyses cannot identify who they came from. This child is mentioned again in Acts 1 and 2, as I am using her case to highlight the importance of Eleanor's research work and thus tenure, i.e. the child acts as a symbol of Eleanor's beloved research work.)
Franciscka couldn't care less about patients: she sees them purely as a means of obtaining research data.
World-building or specific setting/locale details brought out:
Orderly, efficient atmosphere of Eleanor's lab and the respect and affection shown to her by other lab staff (this shows that despite the fact that on the surface, Eleanor appears gruff and grumpy, she is very well liked). Also foreshadows her turning around of the morale in the psychiatric genetics lab at St Gilbert's.
Notice the details Christine includes. Many of these types of details can be added in as you think of things you need to include. Little by little, using the template, you can flesh out every single scene so that you have it in the right place in your story and it includes every little bit of information you need to make it purposeful—no, essential—to your story.
At whatever stage you are in with your novel, you can benefit by an outline critique. I charge this service by the hour, and you can be sure you'll get a thorough analysis and critique of your story. Submit an outline for just a few chapters or your entire story. Your story will greatly benefit from this, and I bet you'll not only be surprised at what you'll learn through this outlining process, you'll become a better scene writer.
Are you willing to take the challenge? Contact me to set up a date for your scene outline review. Then get to work.
Next week, we'll start breaking down scenes into sections, and all the other posts this week will complement what you've been learning about scene structure. I want you to nail this, and I know you can. Learning scene structure does take time and work, but if you want to write great novels, you gotta know how to do this. There's no way around it.
What are your thoughts on using an outline? Have you used one? How has it helped you in particular?