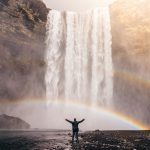 Novels are about characters—characters who undergo significant change. Or, at least the protagonist should. A novel in which the protagonist doesn't learn, grow, or change is a stagnant novel.
We write novels to take readers on a journey. Usually that is some kind of transformational journey. Readers want to go through the struggles and challenges the character faces and witness this transformation.
What's a Character Arc Really About?
What am I talking about? Does a character have to have some huge revelation at the climax? Does he need to change his life? Transformation doesn't have to be huge, and the scope and type of transformation can be influenced by genre. However, even with genres that focus predominately on action—dynamic plot developments—it can be said that those types of books will be better stories if they include some character transformation. Continue Reading…