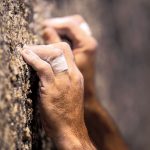 Today's guest post is by Rachael Cooper.
Fiction thrives on conflict. Whether it's a bank robbery or a breakup, our best stories tend to be about people striving to achieve something while other people and events get in their way. In stories, conflict drives the plot, and the plot is what keeps readers reading.
Your job as a storyteller is to captivate your reader. A good story should be impossible to put down. You want to get your reader dying to see what happens next.
With so many distractions out there, this can appear impossible, but don't worry—there are plenty of ways writers grab and hold their reader's attention.
From well-crafted characters to plot twists to sharp dialogue, there is a selection of skills and techniques you should try to hone in your writing game to keep your reader on the edge of their seat. One of my favorite ways to hook a reader, and keep them hooked, is by using cliff-hangers.
In this post, I'll be drilling down into the world of cliff-hangers. I'll discuss the mechanics of cliff-hangers as well as the best ways to use cliff-hangers in your stories. There will also be plenty of examples of cliff-hangers from great writers and stories to help you see their potential. Plus, I'll share some of the best tips I've come across on how to write the perfect cliff-hanger. Continue Reading…