Today's guest post is by suspense author Erika Mitchell:
When I was ten, a family friend took me to Disneyland. As we stood in line for Space Mountain, he leaned over to me and said, "You've gotta be careful on this ride. The ceilings are so low, they'll take your head clean off if you sit up too straight."
As soon as my butt hit the hard metal seat, I felt myself break out into a nervous sweat. The darkness up ahead was a patch of night sky without any stars in it, and as the ride jerked into motion I scooted down as low into my seat as I could and held on tight to the metal lap bar.
In pure darkness, I felt the car going up, slowly, interminably, just long enough to make me regret ever having gotten on the stupid ride in the first place. When we reached the top, I felt us teeter on the edge just long enough to grab half a gasp and then we were plunging down into Stygian black at what felt like a thousand miles an hour. Before I had a chance to recover from the plunge, the car was bucking left and right in a series of tight turns I couldn't see coming, the thrill magnified and intensified by the very fact that I couldn't anticipate anything up ahead. By the time I got off the ride, head still attached to my shoulders, I was hooked. I rode Space Mountain five times that day.
Whenever I think about crafting suspense in a novel, this memory is what I turn to, because what is suspense if not a reckless flight through unknown territory that leaves you white-knuckled, gasping, and ready for more?
Putting That Thrill into Your Story
Too often, I think, good stories are killed stone dead by a terminal lack of suspense. If the reader can guess at the ending before it's done, why would they bother sticking around long enough to turn all the pages to get there? Particularly in the thriller genre, where I have found my happy home, suspense should gird every scene like a tiny imp perched on the reader's shoulder that whispers, "But what happens next?"
Here are three questions I ask myself whenever I'm crafting a scene:
What does the reader expect to happen next?
How can I make my protagonist's day worse?
What's at stake in this scene? How can I threaten it?
Regardless of genre, unpredictability as a storyteller will keep your reader hooked. If you're at a crossroads when writing a scene, make a list of possible outcomes and then cross off the first three that come to mind. Suspense comes from unfamiliarity, and if you're telling a story that's been told before, the familiarity will sure as heck breed contempt in your reader. Guaranteed.
Make a Mess
To look at it a different way, imagine your plot as two points on a graph. A straight line that goes directly from A to Z isn't going to keep anyone up past two in the morning even though they have to be at work in the morning. Throw some false starts in there, some lines that lead to nowhere, some hints at what might be coming, some backward progress, and maybe even an explosion or two, and that graph suddenly looks like a mess.
But it's a readable mess. It's a compelling mess. It's a mess that'll keep your readers on their toes until the very end, when they read the last word, close the book, and then shake their heads, saying, "I just, I can't even," whenever someone asks them about your book.
Don't Hold Back the Torture
Another way to harness the power of suspense is to torture your protagonist. Take your protagonist's bad day and make it worse. If your protagonist just got fired, have him get a flat tire on the way home and then catch pneumonia in the rain. If your protagonist is running for her life from a five-headed monkey demon, have her break a heel and finish her run barefoot along a rubble-strewn sidewalk. If your protagonist's mom just died, have him come home to find his wife running a meth lab in the basement.
You get the point. Suspense can come from the reader simply having no idea how the hero is getting out of this. When I was writing the ending of Bai Tide, I literally had nightmares about the ending because I absolutely positively had no freaking idea how my hero was going to escape. If you can make yourself half-mad with worry over your character, chances are excellent your readers are going to feel the same way.
Set the Stakes High—Way High
And finally, be aware of the stakes in each scene. Figure out what the stakes are in each scene and then make them higher. Maybe even destroy them. If the survival of the human race is dependent on information contained in a micro SD card, have the hero trip and drop it down a gutter. If getting captured during a jewel heist is the absolute worst thing that could happen to your hero, then that's exactly what you should do.
However, I would add a Joss Whedon quote in here to balance out the doom and gloom: "Make it dark, make it grim, make it tough, but then, for the love of God, tell a joke." Give your readers places to pause and collect their wits every once in a while. And then get right back to turning those screws.
True suspense means nothing is taken for granted, and I think this transcends genre. Look at the success of George R.R. Martin's A Song of Ice and Fire series. He's notorious at this point for fearlessly killing his main characters. He has said in the past, "It's really irritating when you open a book, and ten pages into it you know that the hero you met on page one or two is gonna come through unscathed because he's the hero. This is completely unreal, and I don't like it."
The happy ending should look darn near impossible at certain points, the hero's survival should not be a given, and the world might just end up exploding at the end. Or maybe it won't. Either way, if you don't tantalize your reader with the very real possibility that the worst may come to pass, probably will come to pass because the stakes are just that high, they won't care enough to find out for themselves.
If you learn nothing else from this post, learn this: Suspense is a plunge into the dark, with twists and turns you can't see coming and therefore can't prepare for. If you can do this for your readers and transport them so fully to another world that they forget they live in this one for a second, believe me, they will thank you.
How do you generate suspense in your writing? Any novels you want to recommend that show great techniques in ramping up suspense?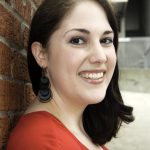 Erika Mitchell is the author of Blood Money and Bai Tide, the first novel of a new series about CIA case officer Bai Hsu (Champagne Books, 2015). Erika cut her espionage teeth on James Bond marathons with her father at a formative age and has never looked back. She lives in the Seattle, WA, area with her husband and their two tiny spies-in-training and welcomes new online friends at her blog, on Twitter, or on Facebook.