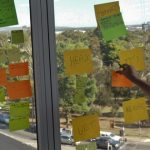 Today's guest post is by Tal Valante, who inspires writers with writing prompts:
Ever run into the dreaded writer's block? Well, join the party. Every writer faces dry spells now and again, but as Jack London said, "You can't wait for inspiration. You have to go after it with a club." And creative writing prompts make an excellent club.
It may seem counterintuitive, to abandon the work you're stuck with in favor of a frivolous turn of the pen (or keyboard). But trust me, it's just what the doctor ordered. A good story starter will get your creative juices flowing and help you clear your head. It will make writing fun again, which could be just the thing you need to get past your block. Besides, you can never know what new masterpiece might be born from an innocent prompt. That's why I love them so much.
Finding Writing Prompts to Inspire You
The Internet offers a plethora of writing prompts, though you might need to sift through them until you strike gold. My private peeve is single-word topics masquerading as a prompt. "Motherhood" simply doesn't work for me (though it might work for you). Continue Reading…