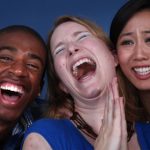 Today's guest post is by Becca Puglisi.
Do you know how many books are on the market today? Neither do I; I can't count that high. I do know that in 2015 alone, over a million books were published.
This is awesome for readers, but it creates a problem for authors looking to create a fan base. Not only do we need customers to find our books, we need them to love them—enough to finish them and go on to consume everything else we have to offer.
To make it in this crowded space, we need to attract readers who are obsessed with our work. We want them staying up late and oversleeping because they couldn't put our book down, texting friends to tell them how awesome it is, and running to the computer when they're done to see if there are more coming out.
Basically, we want raving fans—customers who read all of our stuff and do the word-of-mouth marketing for us. But how do we get this kind of response to our books? Continue Reading…