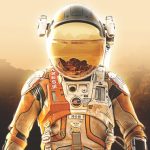 The Martian is a beautifully structured novel (and a terrific movie), and it draws readers right into the story on the first page. For those who saw the movie, you'll notice the novel doesn't begin the same way. It begins in a better way for a book because rather than focus on the plot events that lead up to Mark Watney being left behind on Mars, it gets you right where you need to be—in Mark's head and hearing his voice.
The Martian is a great example of strong first-person character voice. Perhaps (to me) the most engaging and powerful element you can introduce on your first page is a compelling character.
Sure, it's important to have that character be doing something that is interesting, but often first scenes start out with little happening, as we saw in the last two overviews (See Me and Flight Behavior). Neither of those novels had characters doing much other than thinking, and that's not always easy to pull off well.
The challenge with that type of opening is to make the writing style and the character's personality strong enough that they intrigue the reader without the need for dynamic action. Putting a "nonactive" character in a curious or dangerous predicament can also create that tension to hook readers. Continue Reading…