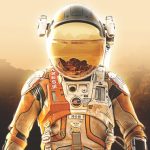 The Martian is a beautifully structured novel (and a terrific movie), and it draws readers right into the story on the first page. For those who saw the movie, you'll notice the novel doesn't begin the same way. It begins in a better way for a book because rather than focus on the plot events that lead up to Mark Watney being left behind on Mars, it gets you right where you need to be—in Mark's head and hearing his voice.
The Martian is a great example of strong first-person character voice. Perhaps (to me) the most engaging and powerful element you can introduce on your first page is a compelling character.
Sure, it's important to have that character be doing something that is interesting, but often first scenes start out with little happening, as we saw in the last two overviews (See Me and Flight Behavior). Neither of those novels had characters doing much other than thinking, and that's not always easy to pull off well.
The challenge with that type of opening is to make the writing style and the character's personality strong enough that they intrigue the reader without the need for dynamic action. Putting a "nonactive" character in a curious or dangerous predicament can also create that tension to hook readers.
But hands down, a great character is going to pop off the page, entice the reader into his world, and make it easy for the reader to care what happens to him. This is just what The Martian does.
Each week as we examine these first pages, we're using this first-page checklist. Consider using it yourself as you read through novels and study how various authors craft those opening pages of their novels or short stories. And use it on your own scenes too. An opening page doesn't have to have all these things checked off, but it should have most. See what you notice as you read the first page of The Martian.
Chapter 1
Log Entry: Sol 6
I'm pretty much fu@$ed.
That's my considered opinion.
Fu@$ed.
Six days into what should be the greatest two months of my life, and it's turned into a nightmare.
I don't even know who'll read this. I guess someone will find it eventually. Maybe a hundred years from now.
For the record . . . I didn't die on Sol 6. Certainly the rest of the crew thought I did, and I can't blame them. Maybe there'll be a day of national mourning for me, and my Wikipedia page will say, "Mark Watney is the only human being to have died on Mars."
And it'll be right, probably. 'Cause I'll surely die here. Just not on Sol 6 when everyone thinks I did.
Let's see . . . where do I begin?
The Ares Program. Mankind reaching out to Mars to send people to another planet for the very first time and expand the horizons of humanity blah, blah, blah. The Ares 1 crew did their thing and came back heroes. They got the parades and fame and love of the world.
Ares 2 did the same thing, in a different location on Mars. They got a firm handshake and a hot cup of coffee when they got home.
Ares 3. Well, that was my mission. Okay, not mine per se. Commander Lewis was in charge. I was just one of her crew. Actually, I was the very lowest ranked member of the crew. I would only be "in command" of the mission if I were the only remaining person.
What do you know? I'm in command.
Why This Works
So let's go through the checklist elements and take a look at how this first page measures up.
Opening Hook: Clever writing and image that grabs the reader—Strong hook. The protagonist is screwed, but we don't yet know why.
Introduction of main character in first few lines: Yes, written in first person, we're immediately in the head of the protagonist and sensing the dire circumstances he faces as he writes a log entry.
Starting the story in the middle of something that's happened (or happening): Yes, the author begins the first chapter with the protagonist reflecting on the fact that he's stranded alone on Mars. He's not actively doing much (recording his log entry), but he's in the middle of a rotten situation, and a unique one.
 A nod to setting; avoid excessive exposition or narrative: The author reveals that the protagonist is on Mars, but that's all we're told on the first page. No description of the setting beyond the telling of where the scene takes place. Yet, readers know enough about Mars to easily picture the scenario. Description can surely come later. 
A catalyst, inciting incident, or complication introduced for your character: Stranded alone on Mars is a definite complication. A huge one.
A hint at character's immediate intentions: As he writes about what will be included on his Wikpedia page—"Mark Watney is the only human being to have died on Mars"—the reader senses this is a story about survival. Watney's immediate intention is to figure out how to survive.

A hint at character's hidden need, desire, goal, dream, fear: Clearly survival. He says "I'm in command." Not "I want to die."
Unique voice/writing style: Watney's voice is engaging—he is sarcastic and uses dark humor. The voice is compelling and entertaining. We feel right off if anyone can pull this survival gig off, it's him. 
Setting the tone for the book: Sets a clear, strong tone for the novel with Watney's voice telling the story. We can tell it's going to be a wild ride, a serious and dangerous journey, but one laced with humor and a touch of cynicism.
A glimpse at character's personal history, personality—shed light on motivation: This first page is tightly written but includes a lot of information about the character. In what feels like very natural prose, we learn the character is the sole survivor of a third mission to Mars, he's the lowest ranking crew member, he's humorous and sarcastic.

Hint of character's initial plot goal: Obvious, as stated. The novel could have started with all the scientists collecting soil samples and doing their experiments, showing Watney's relationship to them, and the mission's goal of research. But all that would have delayed getting into the premise and wouldn't have the impact as this opening has. Showing Watney already with a goal (survival) that gets tweaked once he finds a way to communicate with Earth is a much stronger start.
A course of action/decision implied. Introduction of high stakes/dramatic tension: No course of action included in the first page beyond the character's intent to log his activities/experience, which the author shows through the use of log entries as chapters. And the high stakes are life or death.
Good pacing; jump right into present action. No backstory: The first page jumps right into the account of his situation. It includes backstory, but it's written in a clever way as the protagonist recounts how the first two crews of missions to Mars were rewarded for their bravado. It's natural and flows with the story the protagonist is telling. I particularly love the "blah blah blah." That may have been Weir (the author) knowing how all that backstory would bore the reader and isn't necessary anyway at the start. And by having Watney say that, we get the feeling that he doesn't want to bore whoever might listen to this log (and he probably assumes that person or group already knows his circumstance, so again, it's not necessary for him to explain the backstory).
One characteristic to reveal that makes your character heroic and vulnerable: He's heroic in the sense that he's surviving and vulnerable because he's working against the odds. He seems to hide his fear behind humor and sarcasm.
One element of mystery, something hinted at that raises curiosity: Yes, the reader is left curious about what happened to the mission and the other crew members and will definitely be curious about what comes next—how will Watney survive? Again, a compelling hook.
One element out of the ordinary, unusual, that makes the book different/stand out: The idea of being left/stranded alone on another planet is unique. 
Concise, catchy dialogue (if in the first scene) that is not boring or predictable: No dialogue.
A hint at theme: Surviving against all odds.
What Could Have Been Better
Not a whole lot. I would have liked some dates (years) to know when this takes place, but it's not essential. I probably would have pushed back the little segment of backstory a bit, maybe to the next page. Instead I could have used a little bit about what his situation is like. In the movie, of course, you can see the habitat and know it's pretty cushy. You see he has heat, lights, food, water—at least for now. He has all the tech and comforts of a high-end facility.
But a reader won't know this. He can't tell just where Watney is while he's saying all this. Outside in a storm, holed up in a cave? In a tiny spacecraft? So showing a bit of the setting or the close environs as he records this log would be helpful.
We also don't know if he's writing or speaking (recording). I'd also like to see that he's been injured, but I'm not sure how that might be brought out on the first page. That could nicely tie in with a little explaining how he was left behind. The first page says the others thought he'd died, and that's probably good enough to keep readers reading. But showing that injury or the damaged suit or getting a whiff of that monster storm that forced the crew to flee would be a nice first-page touch.
These things aren't essential, and they're just my personal taste. I like to have authors "pull back" cinematically somewhere on the first page so I can see where they are and feel this place. Temperature, weather, time of day—those things usually matter in most stories. But just saying "Mars" evokes enough of an image for readers that it requires little description.
All in all, as a reader, I love this and have no complaints. It's a terrific start and a great example of economy of words and simple, concise writing that is powerful. Another reminder that less can be more.
Your thoughts: Did you find this first page engaging? What grabbed you the most? What would you do differently? Anything you didn't like?
---
Want to read all the analyses of best-seller first pages on Live Write Thrive?
Get the compiled collection of posts, along with additional insights and instruction that will help your first pages rock!
First Pages of Best Sellers: What Works, What Doesn't, and Why is available in Kindle ebook and paperback! Get yours HERE!