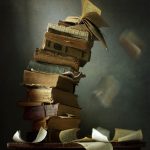 Today's post is by Troy Lambert.
For the Indie author, marketing has always been a challenge. As we discover new advertising outlets, so do those at the Big 5 and even other large publishing houses. They have money that goes deeper than ours and can outbid us on a number of platforms.
What does that mean? Well, advertisers who were putting their ad spend into television, newspapers, and other physical "shotgun"-style ads have finally determined that targeted digital marketing is where it's at. That means the influx of a lot of big money to places like Amazon and Facebook—places where authors used to stand a fighting chance to compete for ad space.
But there are countless indie authors who are now experiencing something new: ads that used to work, that used to get them a great return or at least a reasonable one, are no longer working.
By that I don't mean sales are declining or click-through rates are lower. I mean they have nearly disappeared. Is this the death of the successful indie author? What's next in the marketing world for authors after the latest shakeup? Continue Reading…