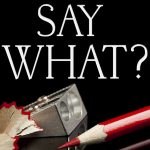 Here's a little grammar lesson. Some verbs are transitive. This means they take a direct object. Writers often run into confusion, for example, with lay and lie. Lay takes an object (I lay the book on the table), so it's a transitive verb. But lie (as in lie down, or telling a fib) is an intransitive verb. It does not take a object. You lie down. You don't "lie" something down.
Okay, got it?
Now, think about the words raise and rise. The basic distinction is that raise is transitive.
I raise my hand when I want to be called on.
He raised the flag when they blew the trumpet.
Easy, right? Got that transitive thing down now? Good. So what about rise? Rise is an intransitive verb, and now you know what that means. Continue Reading…