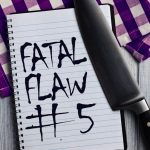 We're wrapping up our look this month into Fatal Flaw #5: POV Violations. And there are many. POV "rules" aren't hard to follow once you understand them. The trick is to keep in mind that when you're in POV, you can only see, think, hear, and feel what through the senses of that one character. Anything that veers out of POV is a violation. 
Today editor Robin Patchen delves into the POV violation involving characters' voices.
Jane Austen's books are all written in the same voice—hers. And we love them. But twenty-first century authors can't write the way Jane Austen did because modern readers have different expectations. Today's readers look for books written from deep point of view, and in deep point of view, not only are author voices different, character voices are too.
Did you ever watch the TV show Frasier? There's a scene where his new girlfriend invites him to go antiquing with her. Kelsey Grammer's character responds, "I'm not one of those people for whom antique is a verb." A funny line, but it tells us something—Frasier Crane's writers knew who he was. Do you know who your characters are?  Continue Reading…