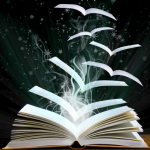 Today's post is by author Audrey Kalman.
Intense arguments occasionally erupt over whether you can be both a great novelist and a great short story writer. (Yes, writers get riled up over such things.) Certainly, some writers are known more for one than the other. But I don't think they're mutually exclusive. In fact, I think these forms can complement and enrich each other.
If you consider yourself primarily a novelist, you can become a stronger writer by adding short fiction (stories ranging from 100 to about 7,500 words) to the mix. Here's why you should and how to get started.
Writing Short Fiction Makes You a Better Writer
It exercises your muscle for economy. You get great practice in leaving things out—backstory, needless exposition, and ornate description.
It's like shopping on a budget. You have to be sure every item in your basket really matters. If you want to train extra hard, try your hand at flash or "micro" fiction—stories as short as a few hundred words.
It lets you finish something. This is a great perk for those of us accustomed to laboring over a novel. Yes, sometimes a story requires months of work. It may need time to stew and develop through multiple drafts, but the process rarely takes years.
For writers accustomed to struggling through the rough patches of novel writing (for example, the slump in the middle), completing a short story is enormously satisfying. And satisfied writers keep writing. Continue Reading…