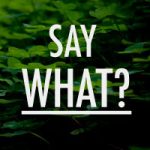 Lots of little words mess us writers up. Here's a list of some with their proper spelling (and note whether they are capitalized or not).
You may want to put these in your notebook and keep handy at your desk:
yesses and nos and maybes
dos and don'ts
MAs, PhDs, BSs, US, DC, ID, US, CIA, FBI (the style is to leave out the periods)
ifs, ands, and buts
I sent thank-yous
coworker (used to be hyphenated but now it's not)
How many "to be continueds" should we expect? (put the s inside the quotes if you are pluralizing a word or expression)
Mind your p's and q's
Dot your i's and cross your t's
We'll be covering more of these from time to time, but too many at once might give you a headache!