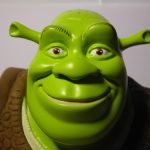 While we're pausing a bit in this in-depth look at your first scene to examine how you introduce your protagonist, I want to add in some insights and prod your thinking about the aspects of your character's personality. Writing instructor and screenwriter Michael Hague enriches the traditional three-act structure (his is a six-act structure) by overlaying the progressive journey of the protagonist. I found his take quite eye-opening, for although I understood the concept of a character portraying himself to the world one way while underneath he's really a different person at heart, I never thought about the process of revealing this "inner man" until I took a workshop from him.
 Persona vs. Essence
All of us are flawed. Over the years, since childhood, we have developed a "face" we present to the world. Often that face is formed by hurts we've suffered early on. We start out all innocent and sweet, and then after a few of life's hard knocks, we hide behind a persona that feels safe. A true hero's journey will show the process of the hero moving from his persona to his true essence by the end of the story. And this is a great model for novelists.
Almost all great stories show the protagonist at the start of the book in his normal world. This is the place in which he functions, interacts with others, and makes his way through life. But if you're telling a rich story, there's going to be something wrong with this picture. Even if this character seems happy, we can tell he's really not. And it really doesn't have to do with his visible goal established at the outset. Oh, they are interconnected, and the goal should be a vehicle for helping your character "find himself." But reaching his visible goal isn't the real thing that will make him truly happy. Every person who is not living in his or her true essence is going to be unhappy.
So your character should reveal this in the first chapter somewhere. Not that they're miserable and glum. You can have a really happy character step onto the stage. What I'm talking about here is showing some aspect of the character's persona (the face he presents to the world) that is not really him, not how he truly feels, and is the source of some dissatisfaction in his life because, well, he's being phony in at least some way.
 Who Really Is My Hero?
Here's a question you can ask: "Who would my hero be if he could really find the courage to [or was forced to] strip away his outward personality and reveal his true self?" A great story hints at the start that the protagonist has the potential to be something else, something better, something more true.
This ties in with last week's post about the glimpse of greatness. Readers love to see something redeemable in humanity. Even with the darkest of antagonists, there's nothing richer and more engaging than seeing a human, authentic side. Think Darth Vader. So, the journey of your hero from start to finish in the story would be one of him starting fully in his persona and ending in a place where he embraces and lives fully in his true essence.
 Shrek Is Really Not Who He Thinks He Is
Shrek embodies the perfect example of this journey. Shrek presents himself to the world as a mean old ogre. That's how he survives. He denies his softer side because it has not served him in the past and he believes it's a weakness. But by the end of the movie, after he's been having to face his essence and battle with embracing it, he finally breaks through to becoming his true self—a really goodhearted, loving ogre with honor and a kind heart.
Stories with characters who grow in this manner really move us. And since we're talking about the heart of the story, you may want to consider this overarching process for your protagonist. If you do, you need to set up in that first scene a glimpse not only of his persona and the face he presents in his normal present world but that glimpse of greatness and true essence—which he might not even see or acknowledge at all. But the reader needs to see it.
This week, think about novels and movies you've seen where the protagonist at the beginning is in his or her persona and not thriving, but then by the end of the movie has changed. There are tons of them out there and that's because this is a structure we resonate with and love. Some I can think of right away are The Firm, You've Got Mail, (well just about any chick flick!), Liar, Liar, and Dickens's A Christmas Carol. Share in the comments some of the books or movies you feel show this hero's inner journey. And next week I'll be back on track about more first-scene elements.