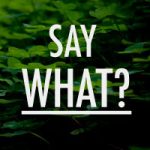 Most writers get confused about capitalization. There are a lot of diverse rules, but here are some easy ones you can learn.
Capitalize the first word of a complete sentence within another sentence:
"I said, Do you want some more?"
Capitalize compass directions when they refer to identifiable places like the American West but not general directions, like "Go west, young man."
Capitalize historical eras like the Roaring Twenties, the Ice Age, the Cold War, and the Great Depression. But we would write: the age of reason, the nuclear age, the information age (lowercase).
Don't capitalize titles or other terms unless used in direct address:
Wrong:
I saw the President of the United States.
I have a Master's Degree in Philosophy.
He is a Doctor in that hospital.
Correct:
I saw President Obama but I never saw the secretary of state.
I have a master's degree in philosophy.
He is a doctor in that hospital.