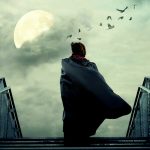 I think it's a good thing to take a look at why you write. If you're writing because you must, because you feel driven and have a deep desire to reach an audience and have a readership that loves your books, it's good to step back and examine your motivation.
If your desire is to entertain, motivate, inspire, move, elicit a certain reaction, or push an agenda, then it's important to understand why this is important to you.
Why? Because once you understand your need to write and what is driving it, you can honestly and practically both assess and plan how you will handle your writing life.
For, I'm talking about writing as a life—for those who write because they have to. Not the person who gets one great idea and throws together what they feel will be a big best seller to cash out, but the person who is deluged with words, ideas, stories, characters, premises. For such people, writing is life. A life without writing would be barren and miserable.
 When the Dream Doesn't Materialize
Some people who need to express themselves in their writing find a fulfilling outlet through journaling, or writing a column in the local paper, or posting regularly to a blog. For them, this satisfies their need to communicate through the written word.
But there are tens of thousands of writers who aspire to write a best-selling novel, who yearn for acceptance, recognition, fame, fans, large advances, huge sales. They may deny they want most or all of these things, but deep inside, this is their greatest dream—to be riding the crest at the top of the NY Times best-seller list and selling more than a million copies worldwide.
Is it wrong to want that? Of course not. But like wanting anything that is difficult to attain—the question is, how obsessed with this dream are you? What will happen if you don't attain it? Will you be satisfied ever with less, and what does that place look like for you? (If you didn't read my last post on the obsessive author, check it out!)
You see, I believe the problem most authors have (and this applies to numerous multipublished authors who have enjoyed good sales of their novels) is they have a standard or measure of success that they've set on the finish line and they're running toward that, eyes focused on that alone, and until they get "there," they can't really feel any deep or lasting satisfaction, sense of fulfillment or accomplishment, or self-worth. I have seen countless authors bemoan their career, their failure to get big sales or the best book contract, and sink hard into depression and cry for days—myself included.
 Postpartum Depression
In fact, to be honest, I have often gone into a kind of mourning period right after I complete a novel, a dark depression that lingers sometimes for a week. And even after I pull out of it, it simmers under the surface, building and souring year after year as I wait for that novel to sell, added to all the other novels I have written that still haven't sold.
As sick as it sounds, I have sometimes thought of my completed novels as stillborn babies. I spent so many months growing, nurturing, slaving over this beautiful project that completely engaged and enwrapped my heart, only to see it sit completed on my computer screen with almost no hope that it will live. My mourning is very similar to mourning a death, for I know the odds of that book getting picked up by a big publisher and marketed to become a runaway best seller (which, of course, is what I absolutely believe it deserves) is close to impossible.
Yet my story is not unusual. In fact, many authors dive into writing a novel with a wing and a prayer, hoping that against all the odds, this book will break out and become the stuff of legends. And so much of their self-esteem and feelings of self-worth are riding on this improbable success. Why do we torture ourselves this way? Why can't we help dreaming and wishing and hoping; why do we ignore the facts? Why do we waste years of our lives riding on this hope and why is it so important to us?
I hope these thoughts resonate with you. Not that I hope you are suffering in this way. but if you have moments like this, I want to encourage you, because I think there are ways we can readjust our thinking and truly find joy in whatever place we're in, as far as our career goes. So check back next week for more thoughts on surviving and thriving in your writing life!
Watch this short clip on famous failures and maybe you'll want to "join the club."