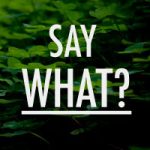 For some reason, writers like to use a character's name often in dialogue: "You know, Alice, I really like those shoes." "Really, Jane? I got them on sale last week." "Alice, that's great. Where'd you get them?" "I got them at Macy's, Jane."
The thing is, we almost never use a person's name in dialogue with them. If you are calling someone's attention to you, yes, you will say their name, but listen to conversations and see if you can ever catch one person using the other's name. It almost never occurs. So, go through your sections of dialogue in your novel and take out names everywhere you can. There may be places where they feel appropriate, but more often than not they are creating unnatural clunky dialogue.
The same rule applies when using your character's name over and over in your narrative. Once the reader knows who you are talking about, you don't need to name John or Jane in every sentence. It can help to read your chapters aloud to catch those repeating names.