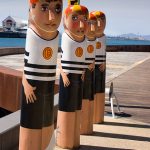 Since this blog is dedicated to help writers get to the heart of their stories, there is nothing more important than character, for your protagonist is at the heart of the story. I don't want to get into the nuts and bolts of developing characters. There are plenty of online websites and blogs that have lessons in coming up with characters and how to make them seem real and not like wood posts. What I do want to explore, though, is a deeper and more personal approach to developing the characters in your novel.
I've heard various authors speak and teach on how to come up with characters for your novel. Some flip through magazines and cut out pictures, then paste them onto a sheet of paper and write up a bio. Others use tools such as the Myers-Briggs personality chart to create character profiles. Some think of actors they like and just plug them in as characters in their novel. My feeling is if that works for you, then great. There isn't one surefire way to create a great character. But I'd like to share some thoughts I have on the topic, now that I've written twelve novels and they're all "character-driven."
Writer, Know Thyself
I believe that if we tap into the things we love and hate about characters and their traits, we're really telling a lot about ourselves. Some interviewers have asked me if I "put myself" into my novels. There's a reason that's a common question–we write about what we know. And for the most part we know ourselves. We know what we like about people and what we don't like. And most psychologists will tell you that those are the very things we like and dislike about ourselves. I would say "Author, know thyself." When we get honest with ourselves about our shortcomings as well as good qualities, we find a rich mix of character within us. People are complex and sometimes contradictory. I am full of surprises–I even surprise myself at times. Writers sometimes feel they must create a character that is wholly predictable and consistent, but we're not really like that. And characters like that in novels are flat. Don't be afraid to make your character contrary.
People change all the time. Maybe not their core beliefs, but their opinions and attitudes may waver from moment to moment based on the mood, who's influencing them at the time, whether they skipped lunch or missed their daily dose of coffee. One day I may think cats are awful, and the next day, after meeting Rex with the best purr and sweetest demeanor, I've become a cat lover.
 Spend Some Time to Bring Characters to Life
I know I'm a picky editor and reader. It takes a lot for you to get me to love your characters. It takes a lot for you to get me to believe they're real, three-dimensional, deep, complex. That's what I yearn for when I read a novel–great characters. It's as if I thirst for them, and if the pages flip by and I'm just not engaged by the characters (even if the plot is fantastic), I tend to give up. I often give up reading a novel by page two. I've done it a lot, and it's almost always after reading the first few paragraphs in the character's POV and finding they are flat, stereotypical, boring, predictable, and often just plain unlikeable.
I talked in earlier posts how to get your reader to care about your protagonist right away by showing a glimpse of greatness and by revealing their core need and visible goal. That's all well and good (and needed). But a first scene does not a whole novel make. Before you even start that first scene, I would suggest–no, urge–you to spend some lengthy time working on your characters. Readers want to love (and hate) the characters in your novel, so it is vital you take the time in advance to bring them to life. If you've already written your novel and your test readers are telling you your characters are flat, stereotypic, or don't interest them, then maybe some of these techniques and approaches I'm going to present will help. Stay tuned for next week's continuation.
This week, keep in mind I'm going to give you some ideas and suggestions that work for me that I feel are powerful and help create really real characters. But in the meantime, think of a few great characters in novels you've read lately. Think about why you think they're great. If you want to do some hard work that you'll benefit from, go through a novel with great characters and either underline (if you don't mind desecrating books–I do it all the time!) or jot down on paper or in a document lines that reveal a character's different qualities, beliefs, feelings, traits. Study how these descriptions have formed a rich picture of who this person is and why they seem so real to you. The more real a character is to the reader, the more emotion that character can evoke.