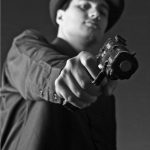 We've been exploring characters in novels these past week. Today, I want to take a little bit of time talking about bad guys. Most novels have an antagonist. Not all, but somewhere along in your novel writing career you will probably have one bad guy show up (or gal). Writers really have a tendency to lean toward the stereotype with antagonists, and maybe that's because we're such nice people and don't really know any evil folks and so we don't have a clear idea what a bad guy really is like . . . except from all those superhero movies we watch. And those are just adding to the problem of badly created antagonists in our novels.
Maybe some writers feel the antagonist doesn't have to be a sympathetic character. Why in the world (you may ask) would I want my reader to sympathize with that creep? Well, I'm going to give you a good reason, so hold that thought. Just as with any and every character in our novel, we want our bad guy to be believable. And what have we discussed about creating believable characters? That they are complex, contradictory, and they have a past that has made them who they are.
Past is key with your antagonist because usually there is something that happened way back when to your character that has made him (or her) into the vile, despicable person he is today (or at least on the day in your novel when she's introduced).  And sometimes when we get an understanding of why a person behaves the way they do, what made them that way, we often can muster up some compassion for them. Face it–bad guys aren't always 100 percent bad, just as good guys aren't perfect. No one will relate to a hero/protagonist that has no flaws, and no one will believe an antagonist that has no redeeming qualities.
Characters You Love to Hate
I'm a big Star Trek fan, and for those of you who have watched Deep Space Nine, you'll know what I'm talking about when I say the
Cardassians are a great example in a collective way of the antagonist/bad guy that has contradictory qualities. Cardassians are very cruel and heartless, void of mercy, and yet they are extremely affectionate and tender toward their children and devoted to their wives. Gul Dukat is one of the best characters in the series due to his complexity and seeming contradictions. You can hate him all your want, but there are moments . . .
A Glimpse of Vulnerability Goes a Long Way
And this is where you'll want to do some special work on your antagonist. You are not risking anything by having your reader feel just a little sympathy or empathy for him. Ever After is the perfect example of a movie that portrays the perfect antagonist. Anjelica Huston's character is such a horrible, wicked stepmother that you just hate her guts. And yet the screenwriter did a fantastic job by writing the one and only scene (moment) where we see a hint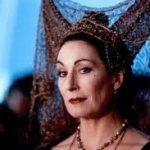 of her humanity and actually feel something for her. It's truly brilliant.
In that scene she tells Danielle (read: Cinderella) to come over and brush her hair. For just a moment she softens and mentions how the girl looks so much like her father (although she has to poison the line by commenting on how manly her features are). Danielle then asks her if she loved August (her father), and the stepmother says sadly that she didn't really know him all that well. This is such a subtle but powerfully tender moment where for a second we see not just a soft side to the evil stepmother but a fragility and vulnerability. In that one moment we can understand why she is so scheming and ambitions and mean. We see her deepest fears in her face–maybe the fear of being alone, of losing everything. She still goes on to do hateful things, and in the end we are glad she gets her just desserts because she doesn't change right then–not at all. But by getting that moment of a glimpse into her soul and the hurt she holds inside, she becomes a much richer and believable character. We understand her motivation and why she is so mean. We don't condone her behavior, but she is now fully real to us–even in a fairy tale structure such as this. which is what makes Ever After one of the best fairy tales movies ever made.
Next time we'll look at some ways to make your antagonist truly real, believable, and yes, sympathetic–which really is a good thing to do!
This week, if you have an antagonist in your book, take a good look at him or her. See if this character is just a flat stereotype or is complex. Does this character have a redeeming quality? If you haven't shown it, find a place in your book to reveal this. It can be shown through dialogue, action, or internalizing. Play around with this and see if you've made your antagonist better and more believable. If you are still in the planning stage, come up with a rich past as we've discussed in earlier posts, and then give your antagonist one vulnerable quality or moment that's not trite but genuinely shows a human side.