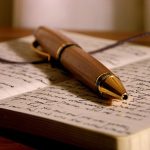 It's a new year, and perhaps you've made some writing resolutions for 2013. Maybe you read through last month's posts on strategic planning and you've set some practical goals for your writing career. If you are a writer who needs to write, wants to reach an audience with the stories you yearn to tell, and don't see writing as just a passing hobby, then you might want to redefine yourself—if you have not thought of yourself yet as a "true" author.
"Clothes" Make the Writer
You don't have to wait until you've been published or have sold thousands of copies of your books to think of yourself as an author. The sooner you see yourself as one and wear that hat, the better you will feel about your writing life. They say "clothes make the man." In a sense, if you clothe yourself as a writer, you will not only "look" the part, those "clothes" will help adjust your mind-set and help you think like a professional writer. I'm not talking about real clothing, although maybe there is some form of dress that screams "writer." But we put on a mind-set or attitude that bespeaks professionalism and dedication to our craft.
A Big Announcement!
This year, I'm branching out even more to help writers see themselves as authors. And it's not to create some ephemeral illusion or mind trick. Envisioning who we want to be—in every facet of our lives—is the first start to becoming that vision. That's why strategic planning works. You create a vision, break it down into practical, attainable pieces, then start trekking toward that goal. Some things will take you to that destination slowly, over a long period of time. Other things will put speedy wings of flight on your shoes and you'll feel like you are soaring toward your dreams.
For me, what helped me to reach my many milestones in record time was attending intensive writing workshops. I can honestly say, hands down, that the multiday workshops I took with the top writing instructors in the world propelled me into another, higher level. In fact, after the last lengthy workshop I took, I finally felt like I had "arrived." Not that I knew it all—not by any means, because we writers can just keep learning more and new technique. But I came away from the workshop realizing my writer's toolbox was filled to the brim with every tool I could even need for any work of fiction I would ever write. The realization pretty much blew my mind. If there is anything, in my opinion, that will help a writer accelerate and excel in his writing craft, it's learning firsthand from the best. And so, Writing for Life Workshops was birthed.
Three Amazing Writing Workshops in 2013
After many years of thought and spurred by the desire to help other authors learn some of the fantastic things I've learned, I decided to start hosting workshops with top instructors. I'm pleased to announce the first three multiday workshops with teachers who have taught me the most important material I've ever learned in my life as far as writing fiction goes. When I approached these instructors—who are highly acclaimed authors as well—they were excited to have a venue in the San Francisco Bay Area to conduct their workshops.
Here is the lineup: James Scott Bell, June 28-30; Davis Bunn, September 14-15; and Michael Hauge, October 19-20. Check out Writing for Life Workshops' website for all the details and see what's in store for you. The best investment of time and money, in my opinion, beyond any other possible expenditure, is to learn from the masters. These men have taught tens of thousands of writers around the world, and for the first time ever they will be holding these multiday workshops in the Bay Area. When people ask me what's the one thing I would advise an aspiring writer to do to become the best writer she can be, I always answer, "Attend a great writing workshop."
It's a Party!
Registration for all three workshops opens January 14th—that's next Monday. And to celebrate, we are having a week-long registration party with prizes! All who register during the first week for any event will be entered into a drawing at the close of the week to possibly win signed books, editing services, free consultation with the presenters, and even a Kindle Paperwhite! The more people register, the more prizes will be added to the pot. Winners will receive their prizes at the conference they attend (granted minimum attendance is reached).
These workshops include a buffet lunch and lots of goodies and will be hosted at the Courtyard Marriott in Newark, CA. The hotel is also providing discounted rooms for attendees. Note, too, that by registering early, you will get a great early bird price. So tell all your writer friends and sign up! You won't regret it, and you will learn more things in just a few short days than you might ever learn in years. Be sure to also sign up for the newsletter to be kept up to date on all the news and events!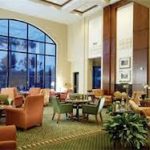 I hope you will make it your resolution to become the best writer you can be, and will consider joining us in the Silicon Valley this year to learn from the best of the best. Do you want to write for life? Do you want to take your writing to a higher level, learn how to write for commercial success, and reach the heart of your reader? Then make the commitment to start thinking and living like the author you dream of being.