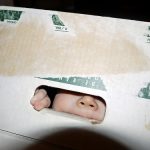 Last week I told a brief joke about a man walking into a bar, accompanied by a piece of asphalt. Like most jokes, this one was short and didn't give much detail. It had no power or punch, no strong feel of action or movement. I doubt you will remember it a month from now. Other than the man walking and talking and nodding, the "scene" was stagnant, with little to stir the imagination or evoke emotion.
Maybe your own writing feels this way to you—often—and you don't know what to do to make it better. Maybe you've read a dozen books on the writing craft and have attended countless workshops at writers' conferences and you still can't seem to "get" how to write powerful, evocative scenes that move your readers. Well, if you sometimes feel like strangling, stabbing, or decapitating your novel because of flat, boring, lackluster scenes, you can shoot your novel instead!
 Show, Don't Tell—But How?
Sol Stein, in his book Stein on Writing, says, "Twentieth-century readers, transformed by film and TV, are used to seeing stories. The reading experience for a twentieth-century reader is increasingly visual. The story is happening in front of his eyes." This is even more true in the twenty-first century. As literary agent and author Donald Maass says in Writing 21st Century Fiction: "Make characters do something that readers can visualize."
We've heard it countless times: show, don't tell. Sounds simple, right? Wrong. There are a myriad of choices a writer has to make in order to "show" and not "tell" a scene. Writers are often told they need to show, which in essence means to create visual scenes the reader can "watch" unfold as they read.
But telling a writer to "show" is vague. Just how do you show? How do you transfer the clearly enacted scene playing in your mind to the page in a way that not only gets the reader to see just what you want her to see but also comes across with the emotional impact you intend?
 The Shotgun Method
Writers know that if they say "Jane was terrified," that only tells the reader what Jane is feeling; it doesn't show her terrified. So they go on to construct a scene that shows Jane in action and reacting to the thing that inspires fear in her. And somehow in doing so writers hope they will make their reader afraid too. But that's often like using a shotgun approach. You aim at a target from a hundred yards away with a shotgun and hope a few buckshot pellets actually hit the bull's eye.
Many writers think if they just "point and shoot" they will hit their target every time. But then, when they get lackluster reviews, or dozens of agent or publisher rejections, they can't figure out what they did wrong, or failed to do. Why is this? Is there some "secret formula" to writing visually impacting scenes every time?
No, It's Not a Secret
No, not secret. In fact, the method is not only staring writers in the face; we have all been raised watching thousands of movies and television shows. The style, technique, and methods used in film and TV are so familiar to us, we process them comfortably and even subconsciously. We now expect these elements to appear in the novels we read, to some degree—if not consciously then subconsciously. We know what makes a great, riveting scene in a movie, and what makes a boring one—at least viscerally. And though our tastes differ, certainly, for the most part we often agree when a scene "works" or doesn't. It either accomplishes what the writer or director has set out to do, or it flops.
So since we have all been (over)exposed to film and its visual way of storytelling, and its influence on society has altered the tastes of fiction readers, it's only logical to take a look at what makes a great movie. Note that we're not looking at plot or premise in this course, for that's an entirely different subject. Instead, we're going to deconstruct movie technique into bite-sized pieces.
Just as your novel comprises a string of scenes that flow together to tell your whole story, so too with movies and television shows. However, you, the novelist, lay out your scenes much differently from the way a screenwriter does. Whereas you might see each of your scenes as integrated, encapsulated moments of time, a movie director sees each scene as a compilation of a number of segments or pieces—a collection of camera shots that are subsequently edited and fit together to create that seamless "moment of time." So get ready to think in terms of "segments" that make up a scene, and we'll dive into all the camera shots you can use to create segments that will supercharge your scenes.
This week, pull out a novel or two—something published or your work in progress (WIP). Look at some scenes and assess whether they come across visually, making it easy to picture as a movie scene. Take a scene that is flat and in which little happens and try to imagine shooting it with a movie camera. How would you shoot this? From what angles? How many "segments" would you need to piece together to make a complete scene? Although we haven't gone yet into just how to do this, get your thoughts flowing on this concept and we'll dive in with more next week.