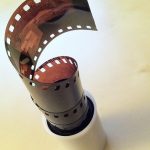 Last week we began looking at film editing, and how it's changed over the decades in the movie world. Now, you may think it really odd, but knowing my background, you should understand when I say one of the things I pay the most attention to when I watch a movie (and comment on to my husband—to which he can attest!) is the editing. I feel the editing is what makes the movie. A terrifically edited movie scores more points in my book than a well-written one. I am enthralled when I watch a beautifully edited movie, when all the cuts of the various camera shots are pieced together like a symphony.
One movie that comes to mind is Inception. There are sequences in that movie that are edited to show reality unfolding on three different dream levels all at the same time. It is masterfully done. If you've watched the opening scene of Saving Private Ryan and you felt like your heart was being ripped out, much of that was due to the brilliant, powerful editing. Although I could barely view the painful images on the screen (and I'm glad I saw it on my small TV and not in a theater), I can't forget specific camera angles used, such as the shot taken from the seaward side of the landing craft looking toward the beach as the soldiers try to disembark and are mowed down with machine-gun fire, many while still in the boat, the water turning red as bodies keep falling.
In contrast, a movie with boring editing will tend to show boring scenes that feel flat or choppy or lacking spark.
 Yes, Another Hat
If you haven't figured out by now where I'm going with this, I hope you won't be surprised to have me tell you that, yes, you also need to wear that editor's hat. I don't mean the "book" kind of editor, like me, but the movie kind I mentioned above—the person who takes the film of all the raw footage of the shot scenes and pieces it together in not just the right order but in a specific sequence.
Think about it. Each scene in a movie or TV show is not just shot from one angle; it's shot from many. There are close shots in which you see one character's face and the back of another's head. There are stationary shots taken from different angles, as well as numerous moving shots taken from different angles. You may have an aerial shot, some long shots, some tilted ones, some tracking shots done with the camera moving along on a dolly.
The director will make clear which shots he wants. He then, along with various producers and others, will work with the film editor to choose which shots to use in a scene, and like a jigsaw puzzle will (hopefully) seamlessly put it together so it flows without lagging, as well as provides just the right tension and pacing needed.
It's not easy. And fiction writers have to do exactly the same thing. They have to not only "shoot" their scenes, they have to choose the camera angles, and then piece it all together in a way that fits their genre and story, and keeps the pacing going at the speed needed to engage the reader. A novel set in Victorian England showing the characters having tea and discussing suitable marriage prospects (not my cup of tea) should have different camera shots and entirely different editing than a suspense thriller in which the protagonist has to save the world before the ticking bomb explodes.
 CUT TO: An Important Point
I want to say "cut" here to emphasize again the importance of being aware of the "high moment" of each of your scenes. This is what good directors know. Before they shoot those scenes on their shooting schedule for the day, they are thinking about that instant (whether it will last a few seconds or even a minute) each scene is building to. Too many writers write too many scenes with no point to them.
Ever seen a movie that left you scratching your head? A movie with scenes that had no point to them, and for the life of you, you couldn't figure out why they were in the movie at all? Same thing. Someone should have cut those scenes out or rewritten them, you think. Maybe you've said that about scenes you've read in some novels too. Hopefully no one has said that about your novels, but if they have, you can fix that. How? By making sure you have a high moment you are building to.
At the risk of being redundant, let me just say again: a high moment doesn't have to be a huge moment. Remember, what's significant to a reader is what impacts the character. Just a single word can pack a punch in a scene, and often does. A beautifully delivered line of dialog can be more explosive than blowing up the Statue of Liberty. Great movie directors know this too. As actress Rosalind Russell said, what makes a great movie is "moments." And in order to write supercharged scenes that utilize specific camera shots, you have to know what moment you are building to. Just keep that in mind.
This week, as you watch a movie, try to pay attention to how it has been edited. Look at all the various camera angles used, how long each shot is, and think about why the director used that shot. Notice how the film editor pieced all the segments together (hopefully) seamlessly to create the desired tension and pacing for that scene. Becoming aware of how this is done will help you over time to visually construct the scenes in your novels. Notice anything interesting?