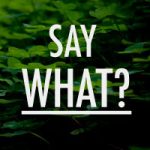 Writers often refer to the time of day in a scene, so it's good to know when to spell out the time and when to use numerals. The rule is fairly simple. Times of day in even, half, and quarter hours are usually spelled out in text. With o'clock, the number is always spelled out.
Her day begins at five o'clock in the morning.
The meeting continued until half past three.
He left the office at a quarter of four (or a quarter to four. The a before quarter is optional).
We will resume at ten thirty.
Cinderella almost forgot that she should leave the ball before midnight.
Numerals are used (with zeros for even hours) when exact times are emphasized. Chicago recommends lowercase a.m. and p.m., though these sometimes appear in small capitals, with or without periods.
The first train leaves at 5:22 a.m. and the last at 11:00 p.m.
She caught the 6:20 p.m. flight.
Please attend a meeting in Grand Rapids, Michigan, on December 5 at 10:30 a.m. (EST).