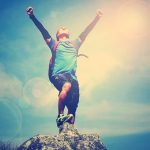 Have you ever asked: "What on earth possessed me to want to be a novelist?" Are you starting to realize this journey of being an author is not a short sprint but a marathon—and often a grueling one at that?
When you hear of the numbers of novels submitted to agents and publishers each year (in the six figures), you sometimes think winning the lottery offers better odds than getting traditionally published. But then . . . you finally break through and get a contract, and months later are holding your brand-new brilliant release in your hand, feeling like you've finally arrived.
Not Even Fifteen Minutes of Fame . . .
Yet . . . if you're like me, the flashbulb moment of that exhilaration lasts a very short time, only to turn into something akin to another stark, depressing realization—that the odds your book will become a huge hit or best seller is . . . well, about the same odds as winning the lottery, and you're back to the same place (or almost the same place emotionally) as you were when you first starting sending out your first queries to agents.
I don't mean to dive right into depressing statistics and start you into a tumble toward negativity. Quite the opposite. When considering that the novelist's life is more a marathon than a sprint, I thought of the one thing that we all really need to focus on to keep going in this writing life, and that's a fresh attitude.
The Desire for Success Can Wear You Down
In the twenty-eight years of my publishing journey, I've seen some authors who I would call plenty successful—with many wonderful published novels under their belt, having won some awards and getting great acclaim—suffer from continual disappointment, frustration, and even despair over their writing career. While I waited for my first "breakthrough" novel to go to press, I had foreboding nigglings in the back of my mind, telling me that would never happen to me. I would be on the NY Times best-seller list out the gate!
Yet, four published books later, I found myself crying for a week at the completion of my latest novel. Why? Because I knew it was the masterpiece and apex of my writing life and ability, and I knew the book would never sell big and get the acclaim I felt it deserved. Why? Because it was wholly imaginative, original, untraditional, and broke "all the rules." I knew that I was risking much by writing the book pressing upon my heart, yet even a couple of years later, I don't regret a second that I spent writing that novel. I wouldn't change a word.
A Challenge to You to Change the Picture
So, where is all this whining and negativity leading to? I spent a long year stepping back and evaluating the writing life. And I would like to challenge you to stop and think a bit about your goals, dreams, hopes, and beliefs.
We have been programmed to believe many things that, I feel, contribute to our disappointments, frustrations, and feelings of failure as writers. I believe it's time to redefine, truly and in our hearts, what success means and looks like to us. Rather than give you a list of practical things your can do like blogging, tweeting, scheduling your time better, and improving your writing craft, I'd like you to think about making this your primary goal for this day, this month, this year: to have a fresh, new attitude about your writing journey.
These are the truths I am learning to embrace, and I hope you will post these and think about them often:
Success is not defined by numbers or money earned. Instead of trying to be successful by worldly standards, think about significance. How can you deepen your writing and reach out to readers in a significant way? Believe that what you have to say through your words is significant and important. And put the care and attention into your writing that you and it deserves.
You are not writing to please the masses. You may never please the masses. And writing to please yourself is not the goal either. We write for an audience, and know the kind of hearts we want to touch. Write, then, for that audience in all sincerity and passion, and trust that from that place your voice will ring out.
Don't validate yourself based on others' opinions of you or your writing. Accept helpful criticism and critiques and keep improving your craft, but know you will never please everyone and it's foolish to try. In my former writers' group we used to applaud loudly when an author got her first scathing review. It's a badge of arrival.
Find a few really supportive writer friends to be on this journey with you. Encourage one another, promote one another, critique for one another. One way to stop focusing on your own sense of failure is to help others. I find great joy in helping my editing clients get agents and publishing contracts, and their success brightens my day. There is nothing wholesome in jealousy, envy, or a competitive spirit. Believe your audience is out there waiting for your books and write for them. There will always be terrible writers enjoying incredible success with terrible books. It's easy to want to throw your hands in the air and say "I give up!" when you see the awful stuff getting praised as great writing. Right, it's not fair. Now, get over it. Really. If you don't, it will drive you nuts. I tell this to myself a lot!
Know that traditional publishing is undergoing radical changes. This is actually great news for authors, for now, with the trend of ebook publishing and social networking and marketing, any good author can get known, grow a true fan base, and connect with readers who love her books. And that's what we need remember—that we are writing for that connection between writer and reader. The future never looked so bright to be able to accomplish these things.
So take heart and a deep breath and think about redefining success with a fresh attitude—one of optimism, enthusiasm, and a renewed dedication to write the best novels you can, knowing that your readers are out there and in time you will find them—and they will find you. To me, that is the only way to stay sane.
Any thoughts on keeping your sanity by the way you define success? How do you define success?
Photo Credit: Lakbay 7107 via Compfight cc