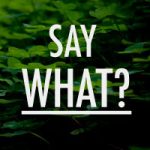 Here's our next look at tenses. If you missed last week's post, review this first so you can understand what it means to be perfect 🙂
It's important for fiction writers to understand what progressive tense is. Why? Because it's used too often and can weaken your writing. So if you know what it is, you can look out for it (kind of like digging out the bits of onion in your salad that you don't like). We tend to use this tense casually in speech and writing, and it certainly has its place. But if it's not needed or just the right tense required for what you mean to say, then replace it with a better tense.
As my 9th-grade English teacher used to say: "Say what you mean. Don't say what you don't mean." I live by that motto!
Certain tenses are progressive because they indicate things that are in the middle of happening. They are not completed (perfect, as in perfect tenses) yet. They are in progression.
Here are some examples:
Present Progressive: I am walking down the street. [This tense is formed with the verb "to be."]
Past Progressive: I was walking down the street. [Notice the ing at the end of these verbs. That's a signal you're dealing with a progressive tense.]
Future Progressive: I will be walking down the street.
So why is the progressive (sometimes called "passive") tense a bad thing sometimes? Because you want to try to have your characters be more active and not so passive. Usually.
Want to challenge yourself? See if you can now figure out what Present Perfect Progressive would look like (no peeking below).
Okay, here it is:
I have been walking down the street all day.
And here are the other Perfect versions of the Progressive tense:
Past Perfect Progressive: I had been walking down the street. [Note the shift from have to had when talking about the past.]
Future Perfect Progressive: I will have been walking down the street. [Starts sounding a bit clunky . . .]
So you can see how this tense can get not only passive but cluttered, which could make you progressively tense. Makes sense these are called progressive tenses.
If you can find these in your writing and change them to the simple present or past tense, your writing may come across more concise and clear, which is a good thing. Instead of writing "Bill was walking down the street," say "Bill walked down the street." Unless you need to explain that Bill was walking down the street when something happened, then you probably don't need that tense.