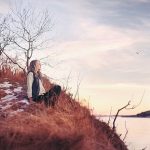 "It is impossible to powerfully capture a place via objective description—at least to capture it in a way that readers will not skim. Only through the eyes and heart of a character does place come truly alive." (Donald Maass, The Fire in Fiction)
You may not have thought about setting in this way, but it's all about the POV character. Every person reacts differently to a specific setting. If you and a group of your friends were transported to someplace you'd never been, you would each notice, like, dislike, and be curious about different things.
We've been looking at the seventh pillar of novel construction: setting with a purpose. Creating evocative, purposeful, and creative settings in your novel will help make your novel richer and transport the reader to your world with more ease.
All too often writers take a brief moment in some scenes (though not all) to describe the setting in a very dull, descriptive way. But just as they may do with some characters (noting superficial things like clothing, eye color, and hairstyle), they often give a broad and boring sweep of a setting, if at all. More often than not, there is no description of setting, and if I could be paid a nickel for every scene I've critiqued that does not show the setting, I would be wealthy indeed.
Setting Is Important!
This makes me think that a lot of writers consider setting unimportant. Just something necessary to place their characters in so they can get on with the story. Keep in mind, though, if your setting is boring to you, the writer, it will be boring to your readers.
I would like to encourage you to think entirely different about setting. Treat setting as a valuable asset to your story—an essential pillar of novel construction. No matter what the plot or genre, your novel is set somewhere, and a good writer can make anyplace—even a prison cell—riveting and sensorially real.
In my year-long course on this blog (and in the book, now available here) Writing the Heart of Your Story, I have a whole section on how to get to the heart of your setting. I heartily encourage you to read those posts (or get the book), starting with this one, and really ponder this topic. For, if your setting is not strong and evocative and purposeful, your pillar of support will not hold up your story.
General and Specific Settings
There are two specifics to consider about setting. The first is the setting of the whole novel itself, which I touched on last week. The premise and plot will determine much of the setting in general, but often there is leeway to be creative with specific places. Whether your story is set in a small Southern town, or in a sprawling city, or a fantasy wold, within that locale are many different places you can stage your scenes.
I'm not sure why writers tend to default to placing their characters in coffee shops and restaurants so often. Yes, we tend to go to those places, but think about how many hours a week you are actually in a restaurant or coffee shop. And then think about how interesting a milieu such a place normally is. Do you really get excited to go to Starbuck's to get an espresso? (I mean, aside from longing for that drink.) Do you expect exciting things to happen there? Not likely, although I have seen some pretty wild and inspiring people come through some coffee shop doors in the many hours I have spent writing in these places.
But I hope you see my point. Since your novel is primarily about one character and the changes and challenges she goes through to reach a goal she is passionate about, the more selective and deliberate you are about choosing setting, the better your story could be. And so many places could be great stages upon which your character and plot arcs play out.
I recently had the pleasure of listening to Elizabeth George speak for an hour on setting, which is of great importance to her in her Inspector Lynley novels set in England. Although she is American, she spends much time traveling around the UK countryside finding general and specific settings for her novels. When she does so, she already has her basic plot and characters in mind, and she often knows specific scenes and their moments of reveal. So she looks for places in which, for example, a dead body might be dumped, or a location that features hiking trails over foggy moors where a murder might go unnoticed.
Setting Is a Matter of POV
I'll be going much deeper into how to connect your character closely to setting, but this week I am hoping to help you start thinking in terms of showing setting through the POV character's eyes.
In my blog section Shoot Your Novel, I shared a terrific passage showcasing an establishing (opening) shot by John Le Carré in The Constant Gardener. It's such a terrific example of showing setting from a character's POV, I'm going to share it again here.
In a novel, you want to try to show each scene through the POV character's eyes and colored by her emotions, state of mind, and way of thinking. Le Carré does a terrific job using appropriate adjectives and his choice of words to reflect his POV character's mind-set. His protagonist, Justin Quayle, is (literally) on a dangerous journey trying to discover the details of his wife's death, which he suspects will turn out to be a murder. It's clear every word was chosen carefully. If you think writing a paragraph or two introducing the setting and time of your scene can only be boring, think again.
The mountain stood black against the darkening sky, and the sky was a mess of racing cloud, perverse island winds and February rain. The snake road was strewn with pebbles and red mud from the sodden hillside. Sometimes it became a tunnel of overhanging pine branches and sometimes it was a precipice with a free fall to the steaming Mediterranean a thousand feet below. He would make a turn and for no reason the sea would rise in a wall in front of him, only to fall back into the abyss as he made another. But no matter how many times he turned, the rain came straight at him, and when it struck the windscreen he felt the jeep wince under him like an old horse no longer fit for heavy pulling.
Look at some of the words he uses: black, darkening (his quest to find answers is getting that way), perverse (that too), winds, rain, snake, sodden, tunnel, precipice . . . I don't need to go on—you get the point. The reader has been watching Justin Quayle going through a similar emotional roller coaster, rising and falling into an abyss, turning one way then another, but getting nowhere fast. His task to find answers feels like he's prodding "an old horse no longer fit for heavy pulling." And the weight he is carrying is heavy. Powerful, right?
This is, to me, a perfect example of showing setting through the eyes, mood, mind-set, and heart of the character and how he feels at that moment in the story. Le Carré could have shown Quayle driving along a flat, boring highway on a sunny day, but that would be a shame, wouldn't it? A waste of opportunity to add texture and depth to the story.
So don't waste valuable real estate in your novel by writing boring descriptions of setting just to "get it over with" and move on to the rest of the story. Start thinking about setting as essential—to your main character. Create a rich history for all your main characters that are linked to places in their past based on their core need and function in your novel.
Next week we'll go further: exploring how a character might interact and react to setting in a meaningful way. For, setting, like everything in your novel, must have a purpose.
What is the main locale of your novel and why did you choose that? How does your character feel about being there, and is your setting a strong part of your story? Share why and how in the comments!
Inspection checklists:
Inspection Checklist 1-concept with a kicker
Inspection Checklist 2-protagonist with a goal
Inspection Checklist 3-conflict with high stakes
Inspection Checklist 4-theme with a heart
Inspection Checklist 5-Plots and Subplots in a String of Scenes
Inspection Checklist 6-Secondary Characters with Their Own Needs
Photo Credit: Victoria Nevland via Compfight cc