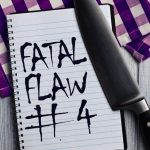 This week editor Rachel Starr Thomson tackles Fatal Flaw #4—Too Much Backstory. In this month's posts, we're looking at the pitfalls of dumping backstory into our scenes and showing ways writers might creatively introduce important information pertaining to a character's past or necessary to understand the world of the story. Backstory dumping is one of the most common and egregious flaws of fiction writing, so be sure to pay close attention to all this month's posts!
Backstory creates an interesting problem for writers. It's an absolute necessity in good fiction—a good thing. Just as you and I have a backstory of our own, so do our characters, and it's often from that backstory that key plot points—or the whole plot—arise. Backstory lends richness and depth to our stories and the people who populate them.
Given all that, why do I say backstory creates a problem?
Backstory can be problematic because it's not always easy to balance. You've likely heard the term "info dumping." This is when a writer comes along and just dumps a pile of information on the reader, usually interrupting the story and derailing any real connection to the characters at the same time.
Really good writing creates a spell. It immerses the reader in another world. The trick is this: We must write backstory, but we must write it in such a way that it does not feel artificial, forced, or so out of balance with the rest of the story that it breaks that spell.
Avoiding Intrusion
This month, our editors will explore ways to relate backstory through dialog, action, and internal monologue so that it stays balanced—a seamless part of the story rather than an interruption to it. Backstory is a nuanced topic, and I believe we're going to have some great discussion around it.
Ultimately, though, the key is to weave backstory in with the other elements so that it feels natural. It should always be an underlying part of a scene, not a break away from it.
Just as an individual has a history, so your characters will often have history together, and it will sometimes have a major influence on the plot. Therefore, especially toward the beginning of a novel, you might find yourself needing to convey backstory when two characters come together.
The following passages are two versions of a scene from my novel Abaddon's Eve, when the shepherd boy Alack catches sight of Rechab, a childhood friend he has not seen in several months.
Keep in mind, as you read the passages below, that a lot of character backstory can be implied. Not everything has to be explained or stated outright.
BEFORE
He had not known she was back. He went to her quickly.
Alack and Rechab had been friends since childhood. She was the daughter of a wealthy merchant and he the son of a shepherd, but they had met one day in the town market when they were about five years old and interacted in their childish way. She remembered him after that, and when they would encounter each other at the town well or other locales, they would play. When they got older, they would talk. They became best friends over time, and in Alack's heart this friendship had turned to love. He had been in love with her for years now. He had not spoken about it to her, although he thought she knew how he felt. The problem was that with the economic difference between them, there was little hope they could ever act on their love.
"Rechab," he said.
She turned. "Alack!"
He thought she was beautiful. He had thought so ever since he turned about twelve years old and stopped thinking girls were icky.
"When did you return?" he asked. "As you know, you have been gone since late spring. Your father took you across the desert on his merchant journey like he always does. You know that I miss when you're gone—I always do."
"We only just returned . . . the journey has been long."
"But you are back now," he said. "Back for the autumn. That means we can spend time together like we've done since we were children."
Her face fell. "Alack, things are different now . . ."
Rechab too knew that they did not have much hope for a future. As she grew older—and more beautiful—her father had plans to cash in on her value by selling her off for a good dowry for some wealthy man. This had been going on for some time now. She always tried to avoid catching anyone's notice, but she had to go out with her father's caravans for long periods of time, and more and more often. She rarely had time to stay in the Holy City and see Alack anymore. It was only going to get worse as time went on.
She sighed. "You know I would stay if I could, Alack."
In a passage like this, both dialog and narrative strike artificial notes. We get the sense that someone is intruding into the story—someone who nudges us with a pointy elbow and puts words in mouths that would never actually speak them.
More effective writing will use other elements of the scene to fill in details like how Alack feels about Rechab, the threat to their relationship, and their history together. These elements include description, specific actions, thoughts and feelings, and yes, dialog (but not the kind that says "As you know, you have been away for months").
Working together, these elements make the backstory part of the scene—something that belongs to it, not something brought in from the outside.
AFTER
He had not known she was back, and his heart leaped at the sight of her. He pressed through the crowd, edging and elbowing his way to the well and her side.
"Rechab," he said, his voice catching.
She turned, light leaping up in her soft brown eyes. "Alack!"
He drank in the sight of her. Small and feminine; clothed in homespun; her dark hair tied back except for a few curls that had fought loose and hung around her face and neck. Rechab was startlingly beautiful by any standard, but it was her eyes that drew him most. Eyes that spoke of laughter and secrets and childhood, and at the same time of mystery and growing up—of love.
"When did you return?" he asked.
"Only just now . . . the journey has been long."
"But you are back now," he said. "Back for the autumn."
Her face fell. "Alack, things are different now . . ."
"You cannot be going out again so soon!"
"My father says trade is good. The nomads brought him riches; he wants to take them to the Holy City in just a few days."
"But . . . you do not have to go with him . . ."
She sighed. "You know I would stay if I could, Alack."
He swallowed hard. He knew the words she was not saying. That if he were less a boy and more a man, if he could put down the bride price, she would stay. Then they would not just be children playing at love; they would be betrothed, with a future.
A future that would never come.
The Past in the Present
As you can see, the second passage is shorter and relies far more heavily on implication than the first one did. It sacrifices certain details about the past—when they met, what exactly Rechab's father's plans are—in favor of weaving the past into the present. It shows us actions and reactions that demonstrate Alack's feelings about Rechab and the way she is pulling away from him.
Notice that the After passage
never has one character informing another of something they both know except in a natural, confrontational context.
implies tension and history rather than stating it outright.
uses description and action to show attraction rather than telling us that "Alack had been in love with Rechab for years."
uses one character's thoughts to unfold years of angst and regret rather than just saying "Alack had been trying to fix this for years."
Backstory is absolutely necessary for any rich, meaningful story. But it needs to behave as a seamless part of the story, not as something parachuting in from outside. You can avoid that sense of outsider artificiality by weaving the past into the present, making the backstory something that is accessible, meaningful, and pivotal to the scene at hand.
Your turn:
Have you struggled to find natural ways to weave backstory into your scenes? What elements have you found most effective in making backstory a seamless part of the story—description, action, dialog? In your WIP, are there details you can sacrifice in favor of implication? Have you ever written an "As you know, Bob" type of conversation? Has this post given you any insight into how you can fix it if you have?