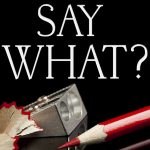 Sadly, this is my last post for Say What? I've run this section on Live Write Thrive for four years now, and next year will see a new Friday feature. All 208 or so posts are compiled in the second edition of Say What? The Fiction Writer's Handy Guide to Grammar, Punctuation, and Word Usage. Be sure to get a copy here!
To celebrate this final post, if you buy the print copy between now and the New Year, you will get the ebook copy for free. I hope my grammar tips have helped you (and continue to help you) become a better writer.
Making pronouns agree with antecedents (the subject that the pronoun is referring to) is usually easily done without thought, but if we writers aren't careful, we'll mix them up incorrectly.
I often see this problem in manuscripts I edit. A writer will begin a paragraph with a particular subject, but will use inappropriate pronouns to refer back to that subject. Or will switch partway through the paragraph.
Take a careful look at this and see if you can catch the problems:
If a person wants to succeed in writing, you have to write at least two hours a day. He can't think he'll make a great writer if he only writes on occasion. One has to be diligent. We can't become great writers without putting in long hard hours. Those of us who write daily know it takes dedication, honing one's style, and doing all you can to improve your grammar.
I hope that paragraph was as messy to you as it was to me. Point being: when you begin a paragraph and establish your subject, be sure you stay consistent and correct with your related pronouns. You have different choices here, but consistency is the ticket:
If you want to succeed in writing, you have to write at least two hours a day. You can't think you'll become a great writer if you only write on occasion. You have to be diligent. You can't become great without putting in long hard hours.
Those of us who write daily know it takes dedication, honing our style, and doing all we can to improve our grammar. You can too.
You'll notice how I created a new paragraph when I switched from "you" to "us."  And honestly, using "one's" is often a bit stilted. "Keep one's hands to oneself" surely sounds better rewritten to "keep your hands to yourself."
Wishing you all a wonderful and productive New Year, and I hope my blog has greatly helped your writing.
---
Are you ready for the new year? Ready to get serious about your writing and crafting terrific books?
Don't waste time floundering around in confusion. Getting professional help is the ticket. I spent decades writing novels and failing to sell them, without understanding what I was doing wrong. I wish I'd had someone like me to point out what my weaknesses were in my plots and structure so that I could have remedied them.
Studying writing craft books like Say What? is a smart way to improve. But getting personalized help is even better.
Make it your resolution for this new year to get exactly the help you need so you can be the best writer possible!
My recommendation? Get either a ten-page or fifty-page critique. Right away you'll see what you need to work on. Get feedback on those opening scenes and see how well you've set up your premise, plot, and characters. I make it easy for you.
10-page critique: $55
50-page critique: $260
If you've had professional help with your manuscript, you might want to submit the full manuscript to me. Get on my calendar so you'll be all set. But if this is your first novel or you haven't had any critique partners or an editor work with you on it, start with a shorter critique first.
Need editing? If your novel has been critiqued and you feel it's ready for the next step, hire me and my team of editors to help you! I provide a unique editing service that's twofold: content edit and proofreading, and I team up with one other editor (a published author as well), so you get two sets of professional eyes on your project! Editing doesn't get more thorough than this.
Want more info? Tell me about your project, how far along you are, and what your editing needs are. Let's get started and get your book in tip-top shape! Contact me here.