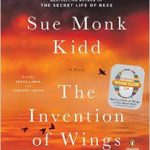 Let's dive into this week's examination of another best-seller's first page. In this post we're examining Sue Monk Kidd's novel, The Invention of Wings, based on a true story of two women linked by the horrors of slavery: one a daughter of a wealthy South Carolina plantation owner and the other a slave in this family's household.
Told in first person, the chapters alternate between the two main characters' perspectives, which we saw done in The Time Traveler's Wife (and a structure used in Gone Girl as well). This book is akin to a family saga, as it follows their unlikely friendship from childhood to middle age. Not a standard novel structure, which uses a short period of time to showcase a character going after a short-term goal.
But many novels fall into that "memoir" structure, which creates a challenge for the author. Why? Because while there may be a goal reached at the end of the book, a saga like this isn't so much about the destination but the journey.
There are big themes in this novel. While the two women's pain and struggle cannot be equated, both women strive to be set free—Sarah from the bonds of patriarchy and Southern bigotry, and Handful from the inhuman bonds of slavery. Kidd is a master storyteller, and with her beautiful writing, she immerses the reader in the lives of these fascinating women as they navigate religion, family drama, slave revolts, and the abolitionist movement.
Each week we've been using my first-page checklist to go through the author's first page to see why it effectively draws the reader quickly into the story. While novels don't have to have every one of these checklist elements on the first page, usually the more they do have, the stronger the opening.
So without further ago, let's read page one.
Part One
November 1803—February 1805
Hetty Handful Grimké
There was a time in Africa the people could fly. Mauma told me this one night when I was ten years old. She said, "Handful, your granny-mauma saw it for herself. She say they flew over trees and clouds. She say they flew like blackbirds. When we came here, we left that magic behind.
My mauma was shrewd. She didn't get any reading and writing like me. Everything she knew came from living on the scarce side of mercy. She looked at my face, how it flowed with sorrow and doubt, and she said, "You don't believe me? Where you think these shoulder blades of yours come from, girl?"
Those skinny bones stuck out from my back like nubs. She patted them and said, "This all what left of your wings. They nothing but these flat bones now, but one day you gon get 'em back."
I was shrewd like mauma. Even at ten I knew this story about people flying was pure malarkey. We weren't some special people who lost our magic. We were slave people, and we weren't going anywhere. It was later I saw what she meant. We could fly all right, but it wasn't any magic to it.
#
The day life turned into nothing this world could fix, I was in the work yard boiling slave bedding, stoking fire under the wash pot, my eyes burning from specks of lye soap catching on the wind. The morning was a cold one—the sun looked like a white button stitched tight to the sky.
Why This Works
So, let's go through the checklist:
Opening Hook: Clever writing and image that grabs the reader. The well-written dialect makes this opening unique—the story her "Mauma" tells sets the tone for the book. This opening scene not only hooks the reader but foreshadows the end of the story, compelling the reader to turn each page to discover just how the protagonist will fly.
Introduction of main character in first few lines: Told in first person from the POV of Handful, we meet the protagonist as she tells her story.
Starting the story in the middle of something that's happened (or happening): The reader knows the story is being told by a slave—someone who will likely flee her circumstances by the end of the story. After the initial "prologue," we get right into her situation, which portends something bad with the words "The day life turned into nothing this world could fix." Ominous.
A nod to setting; avoid excessive exposition or narrative: The beautifully written dialect is a nod to the South. While it is mostly narrative, it has a strong, compelling character voice. We don't know where this story is set, but it's clear it's the South, and that evokes plenty of images for the reader. Sometimes you don't have to give much to imply setting, and not necessarily the description of the actual place.
A catalyst, inciting incident, or complication introduced for your character: She's a slave and bound by all that means. The "magic" her people possessed that enabled them to fly was lost when they came to America. Clearly slavery is a complication in her life.
A hint at character's immediate intentions: The author hints that Handful will one day flee to freedom.
A hint at character's hidden need, desire, goal, dream, fear: Freedom. And a need to understand.
Unique voice/writing style: Beautifully written. In the opening paragraphs the writer captures Handful's voice, her personality, and her bondage.
Setting the tone for the book: Again, in just a few paragraphs, the reader will sense the tone of this book. Handful's voice, her strength, set the mood of the story.
A glimpse at character's personal history, personality—shed light on motivation: The last sentence of the opening, We could fly all right, but it wasn't any magic to it, gives us a sense of Handful's personality and her motivation. She will fly, but it would be of her own volition, not by magic. The reader will sense Handful's strength and determination on the opening page.
Hint of character's initial plot goal: That's not shown but could be assumed. She's a slave and she'd want to find freedom. The motif of wings and the curious title help imply this.
A course of action/decision implied. Introduction of high stakes/dramatic tension: Because this is a slave story, the stakes are automatically high. It will be a story of someone fighting for her life and freedom.
Good pacing; jump right into present action. No backstory: The opening page begins with  a bit of backstory, but, again, it sets the tone for the story. This is historical fiction and the story Handful's mother told her reveals what this novel will be about.
One characteristic to reveal that makes your character heroic and vulnerable: Her circumstances as a slave make her both heroic and vulnerable. The hint at her later fight for freedom also makes her heroic.
One element of mystery, something hinted at that raises curiosity: How will Handful flee her circumstances? How will she obtain freedom? What horrible thing will happen on the day the story begins?
One element out of the ordinary, unusual, that makes the book different/stand out: The story of the slaves once having wings is a beautiful and unique opening for this book.
Concise, catchy dialogue (if in the first scene) that is not boring or predictable:The snippet of dialogue Handful recalls her mother speaking, again, sets the tone for the book.
A hint at theme: The theme of freedom is conveyed in that final sentence that foreshadows the fight for freedom that's to come. You can't get much more clear about theme as in this opening page. Great authors capitalize on powerful motifs in their stories and titles. This novel is a great example.
What Could Have Been Better
I love this beautiful opening. I'm a big fan of historicals, and books about human struggle with a literary flair are my cup of tea. One of my favorite authors is Toni Morrison, and I wasn't surprised when she became the first American woman and first African American to win the Nobel Prize for literature with her stunning novel Beloved (maybe I'll do a first-page examination of that book too).
So it's hard for me to find anything wrong in this opening at all. If I had to add something to this first page, I would hint a bit at some emotion. Where is her mother now? Dead, lost? Feeling a tinge of pain in there as she talks about her mother would be a nice touch. I like the mention of sorrow on her face when her mother tries to cheer her up with the bit about the flying and wings. Clearly this implies a heavy emotional moment, but I wouldn't mind seeing that a little stronger.
I get the sense of strength and confidence from Handful. Smart, insightful, practical. I love the lines "Even at ten I knew this story about people flying was pure malarkey. We weren't some special people who lost our magic. We were slave people, and we weren't going anywhere." So I'd like to feel just a little of what this makes her feel like. "We could fly all right, but there wasn't any magic to it" could also allude to some serious trouble ahead for this girl.
It's clear she's telling this story from a future point in time, which makes sense if she's the storyteller and this covers a lifetime. We don't need to know how old she is now or where she is, but that could also be hinted at. But again, it's really not necessary.
I personally like to know where a novel is set, and Kidd does reveal this in the next few lines (in case you're wondering).
Her mauma tells her she would get her wings, but then Handful speaks in more general terms about her people flying and one day getting their wings. I'd like it to be a more personal remark about herself, although it's clear she is including herself.
So, of all the first pages we've looked at so far, this is the closest to a 10 I've come. Honestly, my suggestions are grasps at straws to come up with something that could be better. I'm perfectly happy to leave that first page as is.
Your thoughts? Anything you didn't like or didn't work for you? What line really resonates with you, and would make you want to read more?