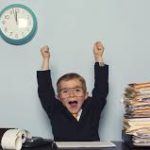 Productivity is often considered evidence of success. A person who is productive appears organized, proficient in his craft or skill. Employees and professors are expected to produce reports and papers to bring validation to their position.
As writers, we're concerned about being productive. Or, at least we should be. Why? Well, how can we truly call ourselves writers if we aren't producing anything others can read? We can journal for years, or toy with ideas. We might even pen a novel or two.
But at what point are we really "writers"?
In the professional sense—the career sense—we're not writers until we've published something.
I'd spent more than twenty years writing novels, acquiring literary agents, and submitting my work to publishers. Though I considered myself a writer—because the bulk of my time was spent dedicated to carving out my writing career—I wasn't yet a professional writer. Not until my books became available to readers.
If we are aspiring to become a "true" writer and publish our books, at some point we have to think about productivity.
Why? Because once we connect with readers and start building a platform and fan base, we don't want to lose them. You may be content with writing and publishing just one book in your life. And that's fine. That's what Harper Lee did (up until the end of her life, when she published her second and last novel). But one book a lifetime is hardly the definition of a productive writer.
 Readers Expect a Steady Flow of Books
 Writers who want to make a career out of writing books have to think about productivity. Readers discover a writer they like, and when they do, they'll usually read everything the author has written to date. That's what I do when I find an author whose writing I love. And that's exciting for an author; those are the kind of fans she wants.
But what happens if readers are waiting for the next book to come out . . . and it doesn't? While some fans will buy a favorite author's newest novel whenever it releases, there's a matter of traction to consider.
Simply said: readers want a steady flow of books from their favorite authors.
And how can an author truly gain traction (grow his fan base and sales) if he doesn't regularly put out books?
I've heard it said by many in the industry, best-selling authors included, that to really be a success (as far as productivity goes), a writer needs to release a book every three to four months.
While that's not likely to occur if you're solely on a traditional publishing track (since you are at the mercy of your publisher's schedule), it is something not only doable but desirable if you're self-publishing.
This isn't a hard-and-fast rule, but the logic is sound. Especially if you're trying to brand yourself. You may be writing a series or two (or five). Your readers, now that you've hooked them with that first novel, are eagerly anticipating book number two. If you wait a year or more to release the next one in the series, and then wait another two years for the subsequent book, that momentum of growing readers may dwindle or fizzle out altogether.
And another consideration: How can you start making a steady (or even terrific) living from your books if you aren't cranking them out on a regular basis?
What Cranking Is Not
 Maybe the term "cranking it out" has negative connotations to you. I get that. We don't want to pump out garbage in the form of books just to meet our self-imposed deadline of "a book every three months." That will bring fresh meaning to the word deadline. Your career will be dead in the water if all you focus on is the productivity and not the quality.
So the challenge for writers is to figure out how to be super productive and not compromise quality or integrity.
I believe writers can learn to "crank it out" in a good way. And while doing so may be easier for some and harder for others, I believe any writer can become super productive, and I'm going to show you how.
It's not just a matter of attitude, although that plays one part. I believe we need to consider way more than attitude to become super productive.
A New Series on Live Write Thrive
For a number of weeks, to kick off the New Year (and since this is when many of us make resolutions for the year), we're going to go deep into writer productivity. Not just look at stuff that will help you be organized or get a book written but how to be super productive.
Hundreds of you readers filled out my survey last year, and some key issues pervaded the answers. Writers are struggling with motivation, getting their books finished, finding time to write, and . . . being productive in general. Since I crank out quite a few books a year, as well as 100,000+ words in blog posts, create online courses, teach workshops, and work nearly full-time, I've got a good grasp on how to be super productive and still have a balanced and fulfilling life.
I don't write every day. In fact, I took a sixteen-month break writing fiction until I jumped into penning Colorado Dream this last fall. While I usually put most of my editing jobs on hold, I wasn't able to do that. But I still found time to crank out that 130,000-word novel, and, while on a writing roll, wrote a long novella as a prequel (and freebie for those joining my Western romance readers' list), and published both before Christmas.
Am I just crazy or a fast writer? Well, maybe both.
But that isn't why I was able to get two novels written and published in a few months. It's because I learned my ABCs. Meaning, I've taken the time, over the years, to analyze my attitudes about writing, my biology, and my choices. This self-examination, which is what this new series will cover, is what will help you hack past the roadblocks you've (yes, you) set up that are blocking your way to productivity.
We're going to take a look at these three key factors to productivity—and I think you're going to learn some new, fresh ideas on the subject. You might think of them as the "Productivity ABCs": attitude, biology, and choices.
Most importantly, we're going to tackle those obstacles to productivity—within and without.
So, I hope you'll join in here with me and share your thoughts on these posts.
I'd like to know what #1 thing is preventing you from being super productive as a writer. And then I'd like to know what three things you think you can start doing right now to move this obstacle out of the way so you can scootch past it.
Share in the comments! And get ready to change your life! Mondays will be all about writer productivity, so be sure to put your email in the box at the top right of this page to get the posts delivered to your email every week.
In addition, if you're serious—really serious—about being a super-productive novelist, you need to join my Novel Writing Fast Track group. Thousands are in this group, and they're benefiting from all the emails sent with tips and helpful advice and resources.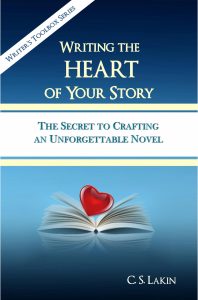 When you join this group, you get my writing craft book Writing the Heart of Your Story for free. And you'll get at least one free ebook a month, and can enter the monthly drawing to win a great writing craft book written by one of my favorite writing instructors.
It's all free! And you can unsubscribe anytime. So make it your choice to be proactive about your writing career right now. Stop procrastinating and making excuses (if that's what you do) and take advantage of all this free help.
And if you are already on my mailing list but not in the Fast Track group, all you have to do is click on the "Update Your Preferences" link at the bottom of any of those emails sent to you. Fill out the form and make sure the JOIN box is checked, so you'll be added to the Fast Track group.
May 2017 be a year of great productivity!