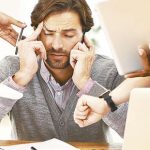 Ah, distraction. The bane of our modern existence. Face it—we are going to be deluged with distractions every waking moment of the day. Unless you've found a way to live in a bubble or at the top of a mountain, deep in a cave, you probably are going to have some distractions. Even then, that water dripping from the ceiling in a steady rhythm is going to start distracting us.
I think the problem is worse than we know. Because decades ago, we just didn't have the kinds of distractions we have now. And because we are so used to being connected online to everyone else in the world (or so it seems) around the clock, it's more a problem of our habits than anything else.
So now we're going to go deep into the "C" of our Productivity ABCs: our choices, which impact our behavior. And retraining our brain is a choice writers need to make if they're to be super productive.
How We've Ruined Our Brain
For instance, my brain is now so used to derailing at any given second, even when I'm backpacking alone in the Sierras, away from any cell phone signals, it takes me days to decompress and allow my brain to settle into what feels like a natural state of being and observation. I have to confess I now take my phone and solar charger with me so I can read and play games and listen to music on my phone while out in the wilderness. But I'm thinking of making a resolution to leave the tech back in civilization. Because it's starting to control me and not the other way around.
And I'm not the worst offender—not by far. I look at a lot of young people when I'm out about town. Even in the movie theater, they're texting on their phone. I went to an NBA game recently (and those tickets aren't cheap), and the couple in front of us never got off their phones. They never watched the game. They took selfies one after the other, then texted them to their friends. I know all this because the section we sat in was steep, and we looked down right into their phones.
We moved to some other seats; I just couldn't take it after a half hour. Later, at halftime, I saw the couple on the concourse. Good, I thought, they're taking a tech break. But no. They were standing near the wall, charging their phones so they could keep up the texting for the second half of the game.
I really wanted to scream. Sometimes I think smartphones are the worst thing that's ever happened to us. Computers? Great. But once phones added on texting and email and cameras, that was the beginning of the end. Yes, I'm a hypocrite, because I use it all. And I know I'm way too dependent on my phone. But I'm thinking of putting some limitations on—for my sanity.
Have you ever forgotten your phone for the day? Left it at home by accident? Be honest—did you nearly (or truly) fall apart? What if you chose one day a week to be without tech? Or at least without your phone?
I wonder how many could get through the day.
The Curse of Our Era
I say all this because what's at the heart of the problem is the habit we've developed. Back in the age of the dinosaurs (my childhood), each household had one phone number and usually a few big old phones plugged into the wall. You've seen it in the movies or old TV shows—that thing with the dial? And the super long stretchy cord that allowed you to get away from Mom, who was in the kitchen preparing dinner, so you could talk to your girlfriend or boyfriend.
Some parents limited the time their teens could talk on the phone. I would sneak the phone into my room late at night to talk to my boyfriend. Good thing it was a local number. Long-distance calls were not only expensive, they showed up on the phone bill. As an adult, cell phones and mobile phones were nonexistent until my daughters were in their late teens. So even up until then, phones were rarely used. You told your kids to "call when you get there and call when you're leaving." That was about it for phone use. Kids and adults actually spent time together and just about the only time they communicated was when in person, face-to-face. Imagine that.
I know I'm wandering down memory lane, but, in some ways, I'm nostalgic for that quieter, simpler, less distracting time. We moved slower, paid more attention. We lived in the "now" moment and actually experienced life.
I can honestly say I believe few people in our culture today do any of that. I know people who are so busy snapping pictures every second that they actually aren't experiencing the life they are documenting. They spend hours looking at their photos, ones they took each day. But they actually, to me, weren't "there."
So what's the point of saying all this?
Multitasking Is Great, Right?
All this tech has helped us to multitask, and that's great, right?
Wrong. We've ruined our brains. What we do each day, every second of the day, is not natural. It's not healthy. We may feel we are super productive, and we may be multitasking with the best of them. But here are some interesting statistics that studies have presented:
Multitaskers experience a 40% drop in productivity.
Multitaskers take 50% longer to accomplish a single task than if focusing only on that task.
Multitaskers make up to 50% more errors.
It takes four times longer to recognize new things when we multitask.
Up to 40% more time is needed to switch tasks.
Multitasking costs the US economy $650 billion a year in lost productivity.
31 workweeks are lost each year due to multitasking.
When we jump from task to task or from one activity to another at such regular and alarming rates (I tend to check my email every couple of minutes, on my bad days, and that's exacerbated if I'm working on something I'm not all that into), we don't get into our groove. We don't find our flow.
To be a productive writer, you gotta get into that zone. And stay there for a while. Our writing suffers when we let ourselves get distracted. And while I'll get into habits and distraction in much more depth, I want to first talk about how we can retrain (and restrain) our brains, now that we've ruined them. (Maybe I should make T-shirts that say "Reclaim Your Brain—Unplug.") So, in next's week's post, I'll be showing you how you can do this.
How do you know if you need to retrain your brain?
If tasks that should take thirty minutes take you an hour to complete, or if you constantly find yourself wander the halls of the Internet on your phone or other device, checking social media sites and texting a friend, the answer is yes.
Larry Rosen, PhD, a research psychologist and author of Disorder: Understanding Our Obsession with Technology and Overcoming Its Hold on Us says we rarely focus on and attend to any task for more than three to five minutes without getting distracted.
"The bottom line is we are all constantly self-distracting, whether you're in school, at your job, or just at home."
What about you? How easily are you distracted? How bad is it?
---
Regardless of whether you write fiction or nonfiction, if you want to get established as an author, you need to be productive. Highly productive.
You can't just write one terrific book and call it good, expecting that singular work to carry you atop the wave of success for y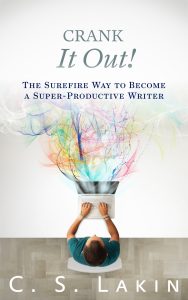 ears to come.
Studies show readers want 3-4 books a year from their favorite authors. And to build traction and a growing audience, authors need to deliver.
The key to being highly productive is centered on knowing yourself. First you need to identify your distractions, excuses, and attitudes that are keeping you from being the productive writer you want to be. Then you need to assess your unique biology, to determine the best times to write and to optimize your sleep and eating habits. It's all here in Crank It Out!
Turn your life and career around by learning the surefire way to be the super-productive author you long to be!