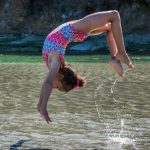 Today's guest post is by Kristina Naydonova, twelve years old
Why is it that we don't believe in ourselves? Are we too scared to know what it feels like to hit a wall of failure? Do we feel the need to bring ourselves down for validation?
Allow me to tell you that everyone is going to taste failure at least once in their lifetime. If you haven't failed, you aren't even trying. You won't succeed right away because that's not how life works.
Everybody always assures you to have a backup plan in case something goes wrong, but you should never listen to that. You should find the courage inside of you to want to fall forward, not backward.
I don't care if there are difficulties lying ahead, and neither should you or anybody else. We all go through rough patches in our lives, and most people choose to walk away. It takes discipline and persistence in order to break through and make a difference.
I've had many people tell me that if you have nothing nice to say, don't say anything at all. You and I weren't born to stay quiet. We were all born to leave our mark behind in this world. For our voices to be heard.
You refuse to hear the answer "no." You refuse to be told that you should quit doing something. You refuse to be told that you aren't good enough because you are. We are all presented an opportunity to grow and to do something that will cause a change in a positive way. It's up to you if you want to take that opportunity and use it.
You were born with many talents, so what are you going to do with them? Do you really want to leave this world not having made a difference, forever haunted by defeat? As Confucius, a Chinese philosopher, once said: "It does not matter how slowly you go as long as you don't stop." In order to achieve something you've never had, you have to do something you've never done.
I've been experimenting with writing a book since I was eight years old, and published by the time I was twelve, my current age. I've had many rejections from literary agents, and I did lose hope at first. I ran into a wall of failure but chose to accept the fact that before success there's only failure. Thomas Edison ran a thousand experiments that failed, and only on the one thousand and first experiment did he make a breakthrough.
Here are some words of wisdom I would like to share with you:
It is scientifically proven that people with a "Plan B" tend to fail at fulfilling "Plan A." This is due to their "comfort" with making even the most trivial of mistakes, for if they fall back, there will be another system of support to cushion them. Although this may seem to be a wise endeavor, departing your comfort zone is key to reaching a certain zenith of success.
Dreams without discipline are simply empty hopes. However, discipline without goals is just a tedious doing.
Keep in mind that being disrespectful is not standing up for yourself. It is merely defying one's views through usage of discourtesy. Handling situations with class and deference will get you significantly far in life.
Understand that success has no limits—only if you set them. In many instances, we are told to "dream big." However, that is a rather futile statement due to its inevitable nature of ensnaring success in constraints. You should never allow for yourself to merely dream big. You should undoubtedly dream infinity.
The answer will always be "no" if you don't try. The only acceptable form of failure is making a mistake, learning from it, and persisting. All other forms are just giving up—and that is the worst thing you can possibly do.
This next message is for young people in this world. Don't think you're not worth it. Don't stop at anything to achieve something, no matter what you're told. I've had agents tell me to stop writing my book and people from my school tell me I'm not smart and not worth it. I didn't let anybody break me or change my attitude toward life. As long as you believe in yourself and love yourself, there is nothing and nobody that can knock you down.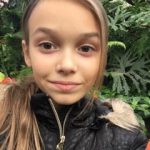 Kristina Naydonova lives in Washington DC and is currently a twelve-year-old student in middle school. After reading a couple of murder mystery books that intrigued her, Kristina was inspired to put her hobby to the test and write a book. Kristina hopes to change the world and prove that no matter your age, gender, or race, anything is achievable if you have devotion. Check out Kristina's book here.
Featured Photo by Tim Mossholder on Unsplash