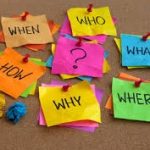 We're been taking a look at outlining scenes these last couple of weeks. Using my scene structure checklist, we've been seeing what elements are so necessary in scenes to ensure their structure is sound and they have all that's needed to engage readers.
We're in an age of "show, don't tell," and that means scenes are going to be packed full of action and dialogue and, well, showing instead of telling.
While many writers like to wing it, just writing off the cuff and creating scenes will only make revision harder in the long run. Scenes are the building blocks of a novel, and those who "pants" their way through scene writing will end up with a novel that is flawed structurally. Yes, this is just my opinion, one that I share with the top writing instructors and bloggers around. And I feel passionately about this.
You might argue that some very successful novelists, like Stephen King, are pantsers. But keep in mind, authors with decades of experience in writing dozens of novels usually have scene and novel structure hardwired into their brain. Just as with playing pro ball or snowboarding, once you become an expert, you don't have to remind yourself what to do.
I've edited and critiqued countless manuscripts. I go through more than two hundred partial and full manuscripts a year. Most of them need a prodigious amount of work to get the structure solid. And most of those manuscripts have been carefully plotted and/or outlined. You can imagine what the unplotted manuscripts are like.  Continue Reading…