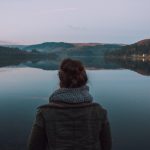 For this week's Throwback Thursday, we're looking at excerpts from past posts on Live Write Thrive that tie in with our exploration on scene structure.
From An Introduction to Stationary Camera Shots:
Setting Up the Scene: Establishing Shots
Establishing Shots are critical in a film. They clue the viewer where this next scene is about to take place. Each time the location of a scene shifts, a new establishing shot does exactly what its name implies: it establishes where the story will now continue, and fiction writers need to do the same thing. The purpose is to give a general impression rather than specific information.
Often a Long Shot is used for an Establishing Shot, but not all Long Shots are Establishing Shots, so those will be discussed in another chapter. Although Establishing Shots are mostly used at the beginning of a scene to set the locale, they can also be used at the end of a segment to provide a revealing or unexpected context, which can pack a big punch when offering the audience a surprising twist tied into the setting or landscape. Continue Reading…