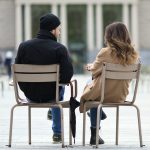 Dialogue is perhaps the best tool in the writer's toolbox. Through it, writers can reveal things about character and plot, set up and amplify conflict and stakes, create mystery and microtension, and so much more—and this is why it merits a lot of attention.
Yes, dialogue always serves more than one purpose—more than merely conveying information. Fiction writers should want to learn skills and methods to help them pack dialogue with as much punch as possible.
Dialogue is also extremely difficult to do well. It has to be condensed and distilled to be effective. Great dialogue in fiction is hardly realistic or exact; it infers more than it states. In essence, it's stylized for effect.
That's why you can't merely listen to people's conversations and copy them down verbatim and use them in your scenes. Much of conversation is boring, repetitive, rambling, and full of extraneous words that clutter.
Use Dialogue to Reveal Character
What I want to talk about for a bit is the way dialogue can replace character description and create an impression without the narrative "telling" that is so often maligned (and usually for good reason).
When we both listen and watch someone speak, we pick up a lot of information that is inferred by the listener. With characters, not only can other characters infer and react to what the speaker is saying and what their body language is conveying (those can be and are often two wildly different things), the reader infers as well. Continue Reading…