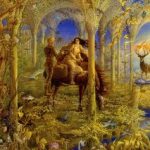 One of the adages I learned from my whacky high school English teacher was this: use strong nouns and verbs.
Seems like a simple and even silly adage. But now that I've edited and critiqued thousands of manuscripts over the years, and have read thousands of good and bad novels, I have to say that this is one of the most profound bits of advice to writers I've ever heard.
I would also throw adjectives into the mix. Writers truly need to think carefully about these three components of sentence structure, for the thoughtful choices of nouns, verbs, and adjectives can make all the difference between so-so or even bad writing and masterful writing.
So I want to take a couple of posts to get into the little bits. Words and short phrases that pack powerful punches. I'd like to challenge you to work hard to come up with fresh, thought-provoking verbs and adjectives to help bring your descriptions to life in a unique way. Continue Reading…