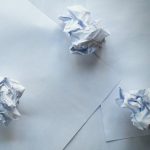 Many people want to write a great book, but they don't want to get into the weeds with grammar, punctuation, and syntax. Yet, those are the tools of a writer's trade. Can you imagine a home builder showing up on the job site without his truck full of tools? Or not having the experience with any of those tools and attempting, say, to use a chop saw or hammer drill? That's a disaster in the making!
Some writers feel the mechanical aspects of writing will interfere with their creativity. That stopping the flow of creativity to fix the noun/verb agreement or look up a rule regarding mass and count nouns will hinder the writing. And I get that, because it does cause distractions when that editor on our shoulder keeps interrupting with corrections or grammatical questions.
However … how can someone honestly become a master of the writing craft if they don't actually master writing mechanics? That's not to say you need to memorize the Chicago Manual of Style from cover to cover. But getting proficient in the language you write in is only logical. And it makes the writing so much easier!
I hear groans. I hear protests. You hated English Comp in school? Old, crotchety Mrs. Snigglegrass made you dissect sentences and name the parts of speech? You got a what as your final grade?
I feel your pain. Who ever makes grammar fun and easy? Learning grammar, to some people, is as much fun as getting a tooth pulled. Or having to memorize the multiplication tables or the capitals of all the countries in the world (remember when they never changed?). Terms like dangling modifiers, predicates, participial phrases, and subjunctive mood give some people the chills. Did you have to conjugate verbs back in junior high? Do you know the difference between the past progressive tense and the past perfect?
No? Do you care? Likely, you don't. Continue Reading…